DIRECT MAIL communication
Agenda:
1. Personalization. Variable data printing
2. Creative forms and shapes
3. Omnichannel
SUBSCRIBE NOW to the Prografix newsletter.
How to take advantage of ALL possibilities of VDP (variable data printing)?
How to use creative forms and shapes of printed ads to increase sales and strengthen customer loyalty?
How to realize figital (online+offline) and attractive direct mail communication?

Find below "hints and tips" about effective and creative direct mail communication.
1. PERSONALIZATION. VARIABLE DATA PRINTING

VARIABLE DATA PRINTING (VDP) turns data of your customers' database into customized mail that engage on a personal level. Personalized direct mail reflects the preferences and responds to the actual needs and interest of you customers. Personalization can enhance mails, letters, postcards, envelopes, brochures, catalogues, coupons, etc. All areas of the print product can be personalized:
In the text and in the image
Black & white and color
One-sided (simplex) and two-sided (duplex)
On sheets up to B1 format and on finished products
On papers of various weight and with different finishing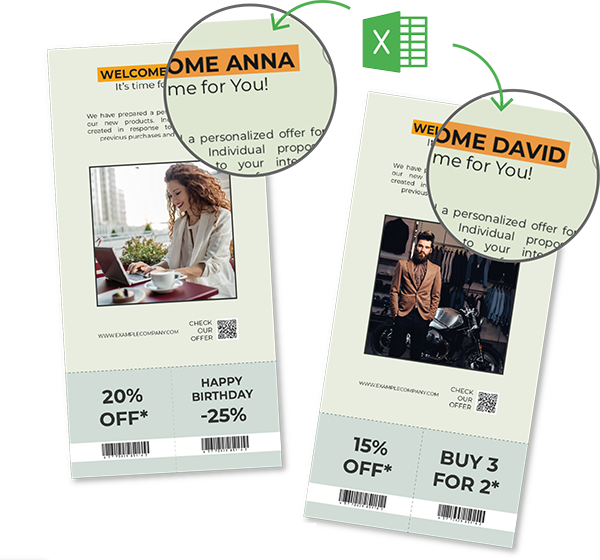 Nowadays direct mails are produced using a high degree of automation. The preparation process (before printing) includes creating a dedicated algorithm using modern print software. It enables dynamic and seamless marriage of data base (excel) with main graphic design (pdf) to create unique print files (direct mail). Everything is prepared according to the requirements of digital printing machines.
Important! Speed & Price:
One of the biggest benefits of VDP is that it doesn't slow down the process of printing. Personalization experts don't need to swap printing plates to create variations of the same base file (design). Everything is done automatically.
The number of personalized elements on direct mail piece doesn't affect the price. You pay for digital printing of sheet – you can personalize any number of elements and places on it. No matter whether you personalize only one element (e.g. name in the beginning of the message/letter) or every paragraph (including images) – the price will be the same.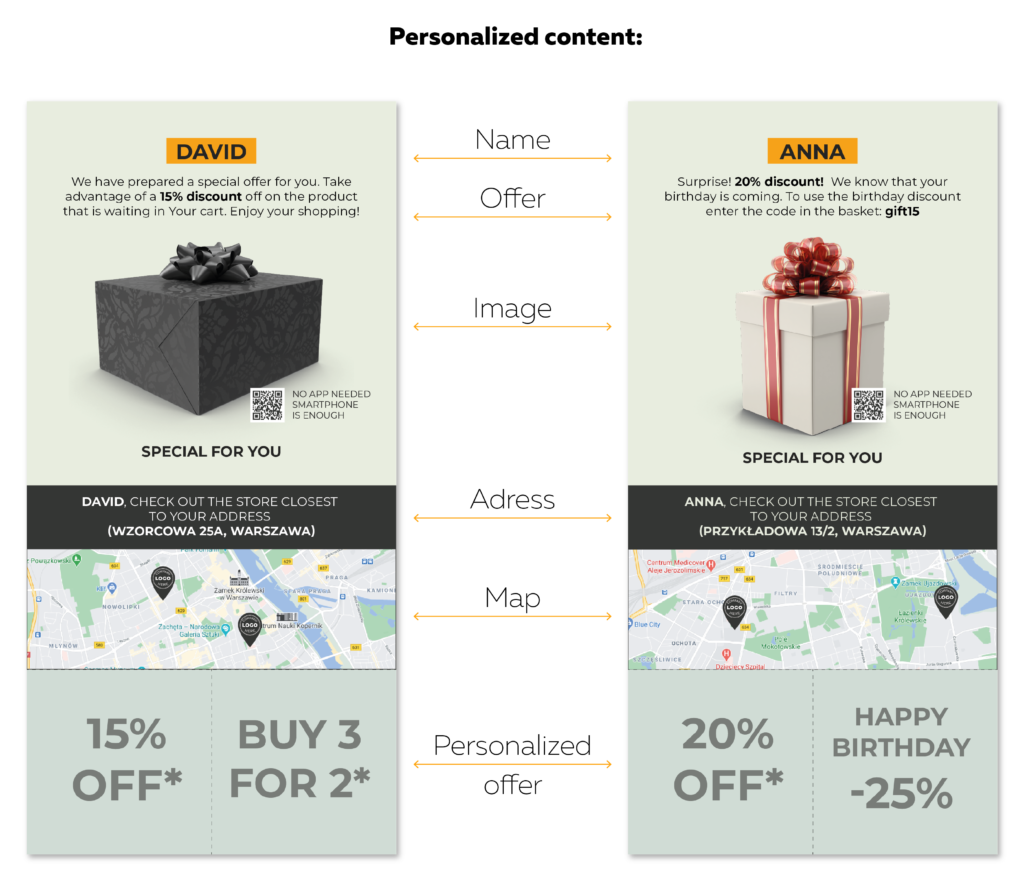 CUSTOMIZED ENVELOPES
Outer envelope can be fully personalized with variable image and text to encourage your customers to open your mail.
We ensure we match the correct letter (message with offer) and outer envelope by using 2d barcode technology. Before shipping each direct mail is checked with an optical scanner by comparing them with the customers' database. If an error is found it can be re-sorted and reprinted.
Important! Mailing addresses can be pre-sorted with a delivery point barcode (it reduces postage rates).
---

Reaching a new level of user's experience!
Modern print technology allows to produce various formats – in creative ways to make your offer even more attractive. Beautifully illustrated direct mail is tangible: we can hold it in our hand. Digital does not appeal to the senses like paper print! Unlimited possibilities of choosing paper and print finishing create premium/luxury feel – in visual, touch, smell, and even taste sense.
A unique folding and cutting can make direct mail even more attractive. Here are some great examples.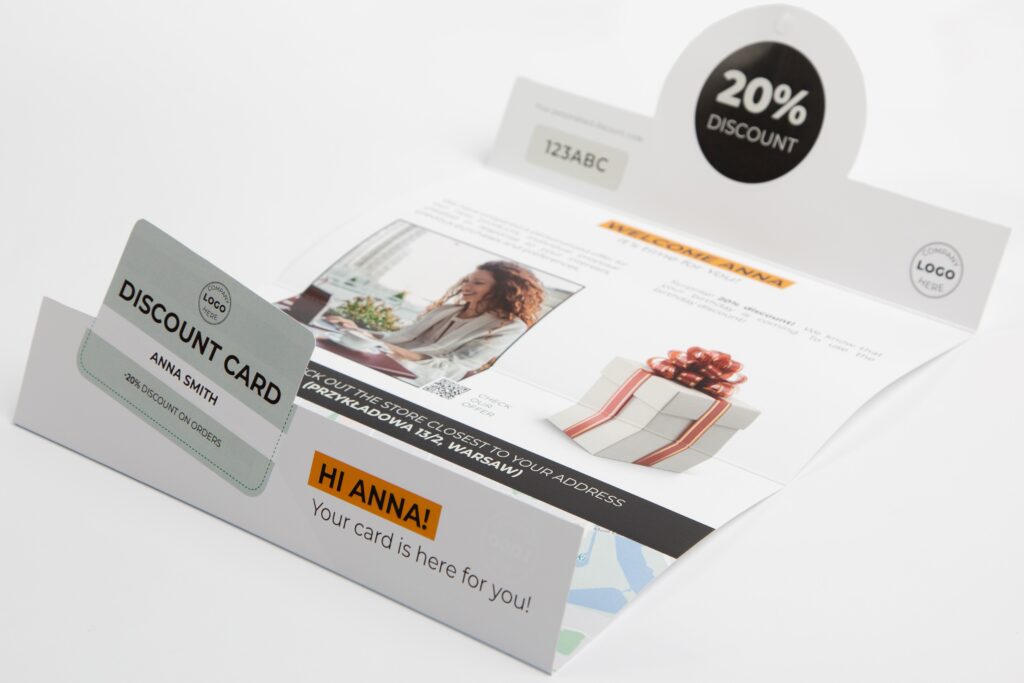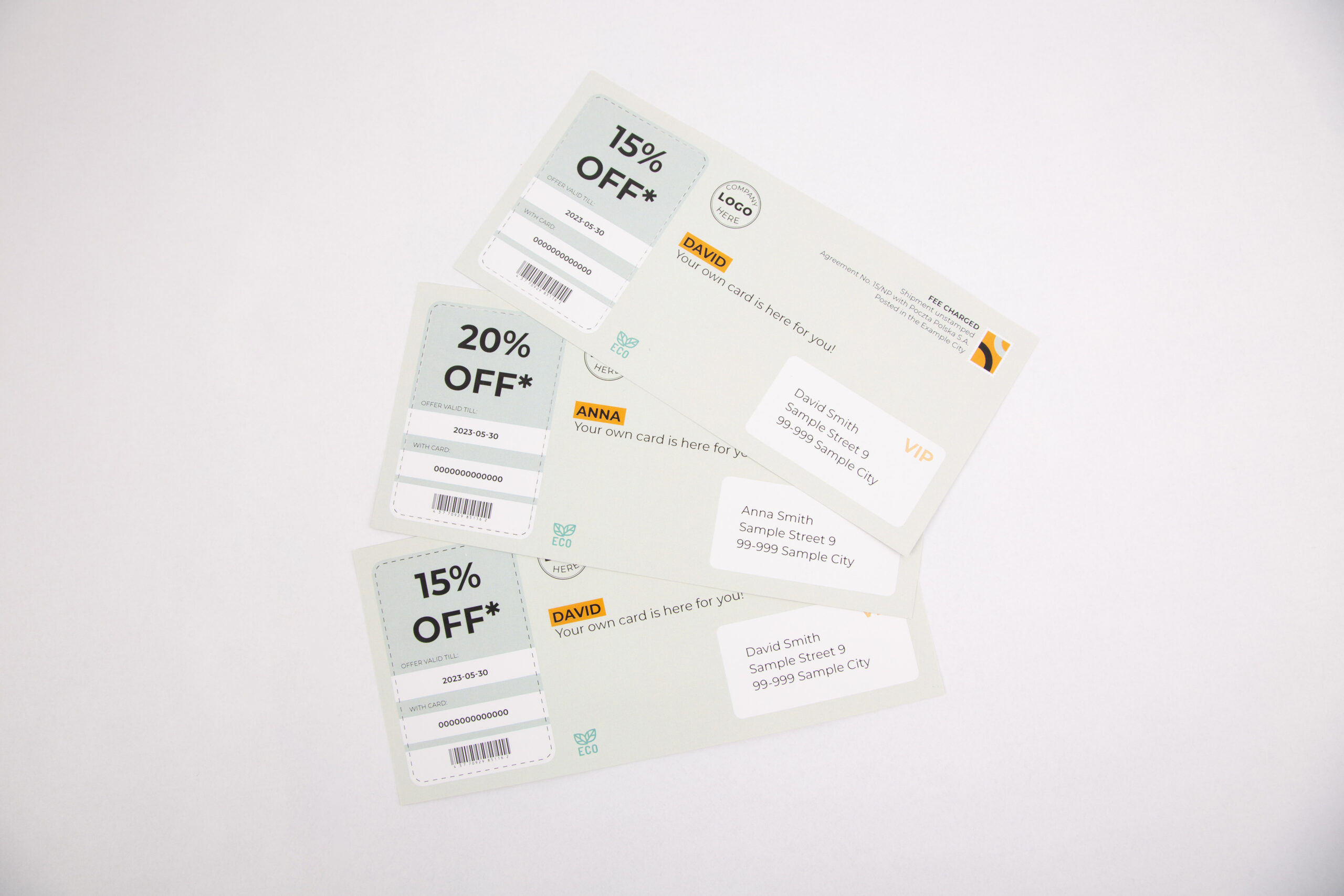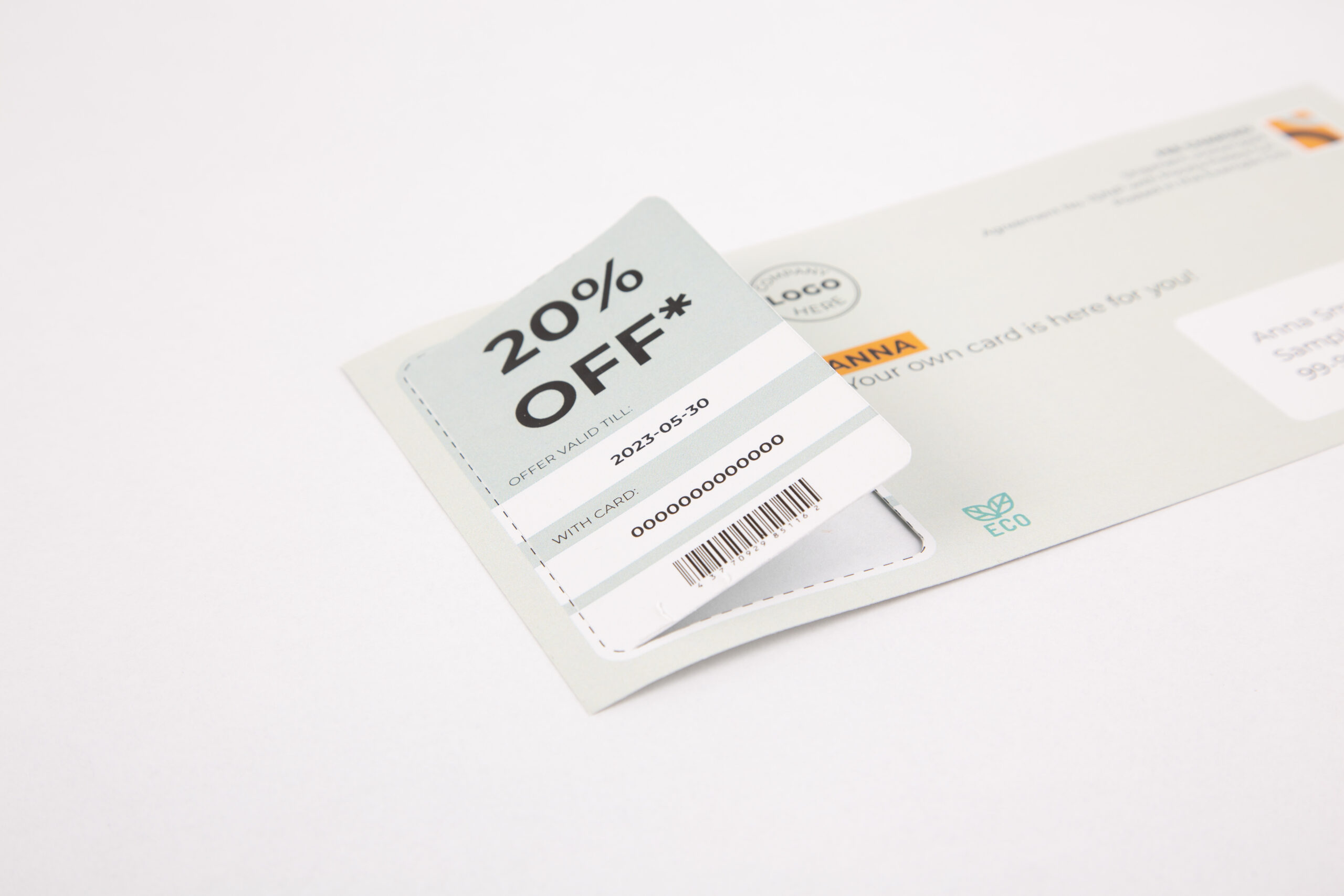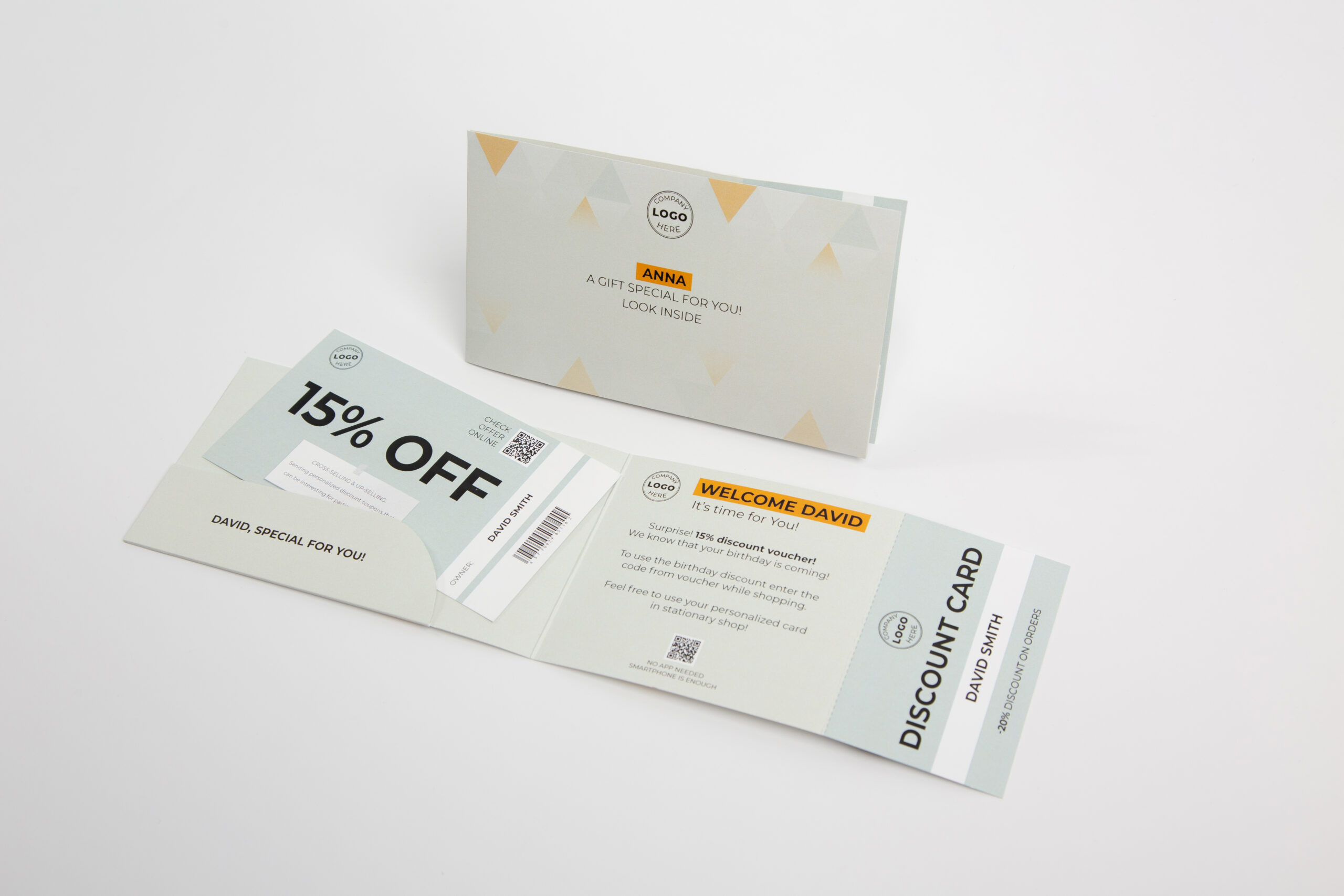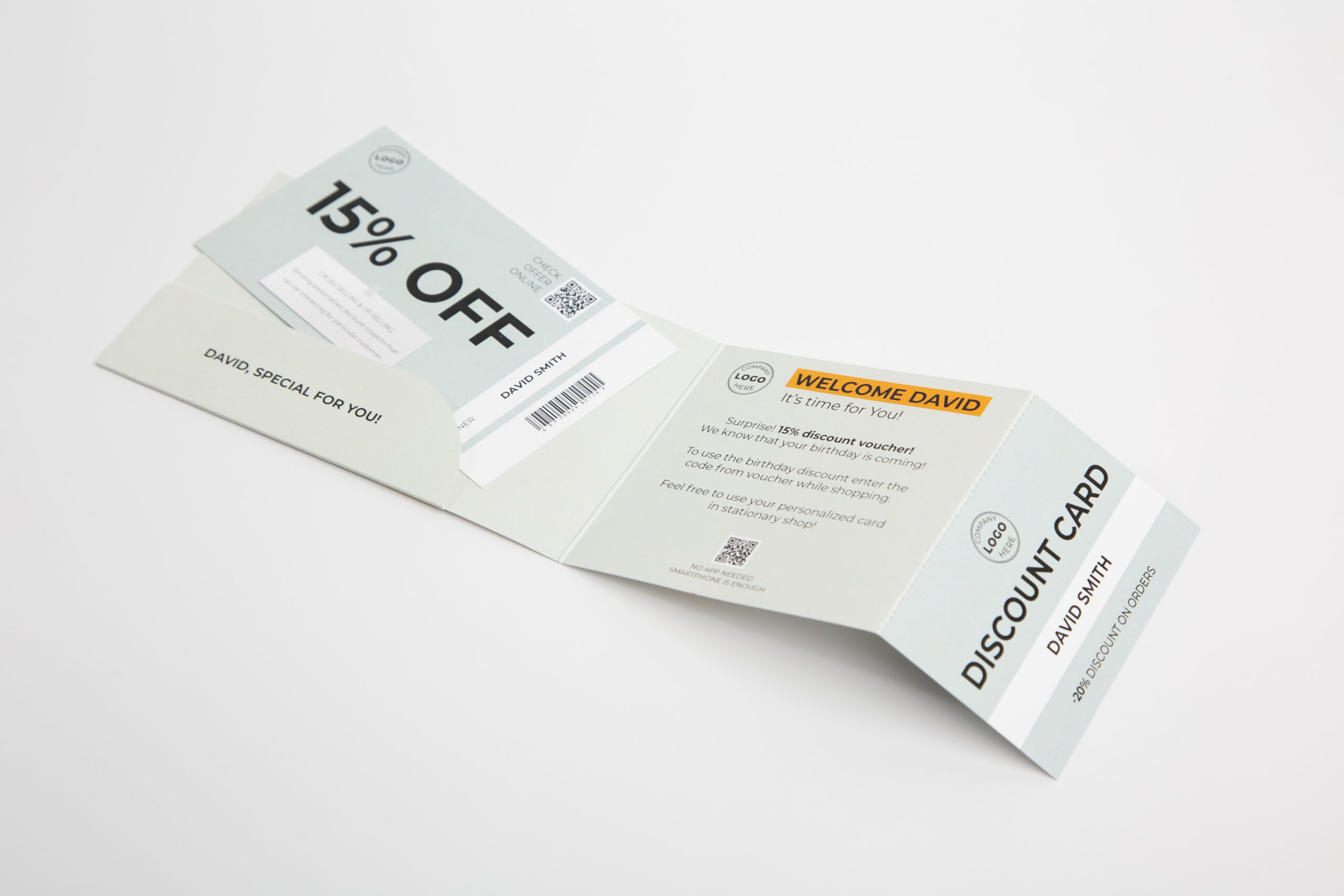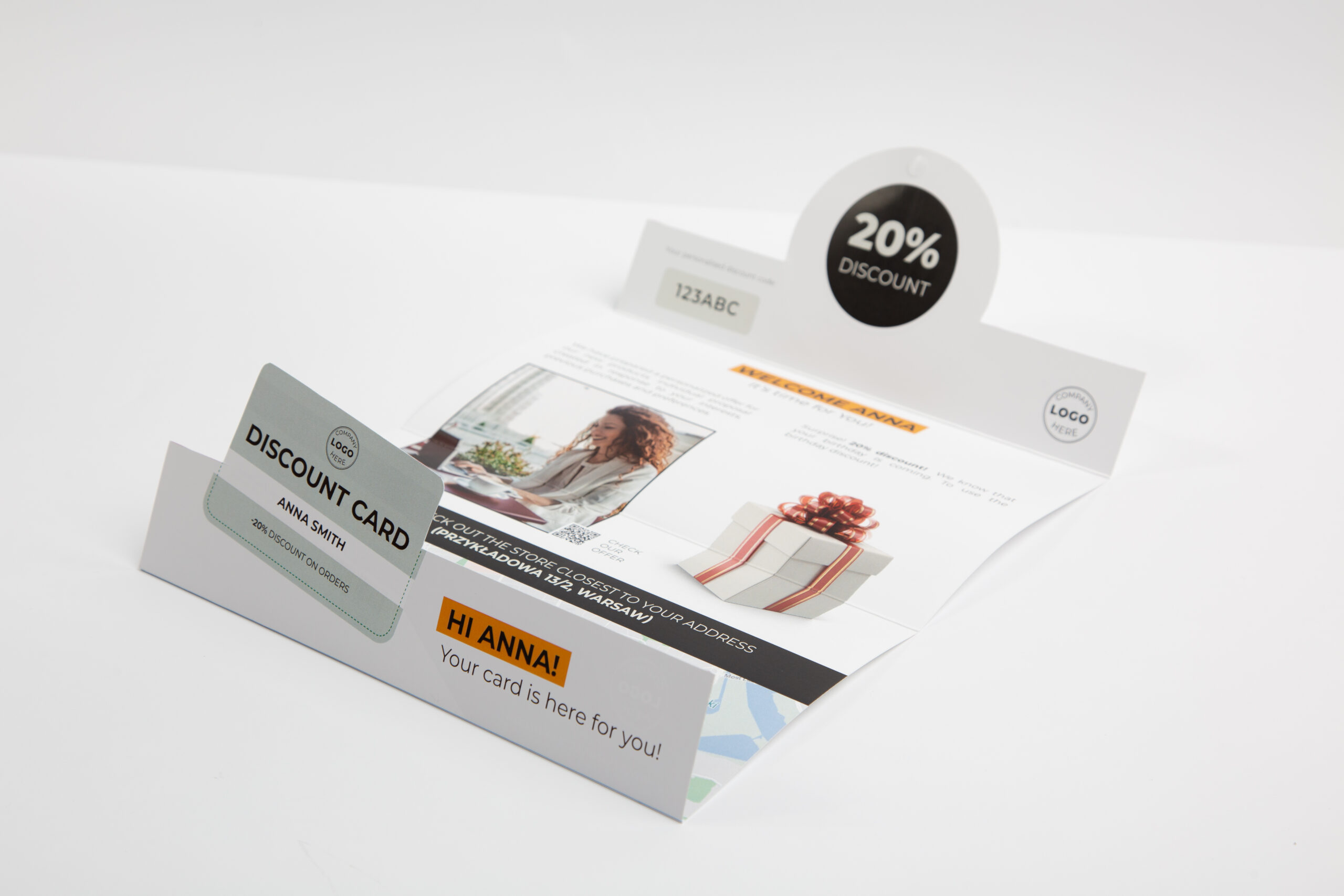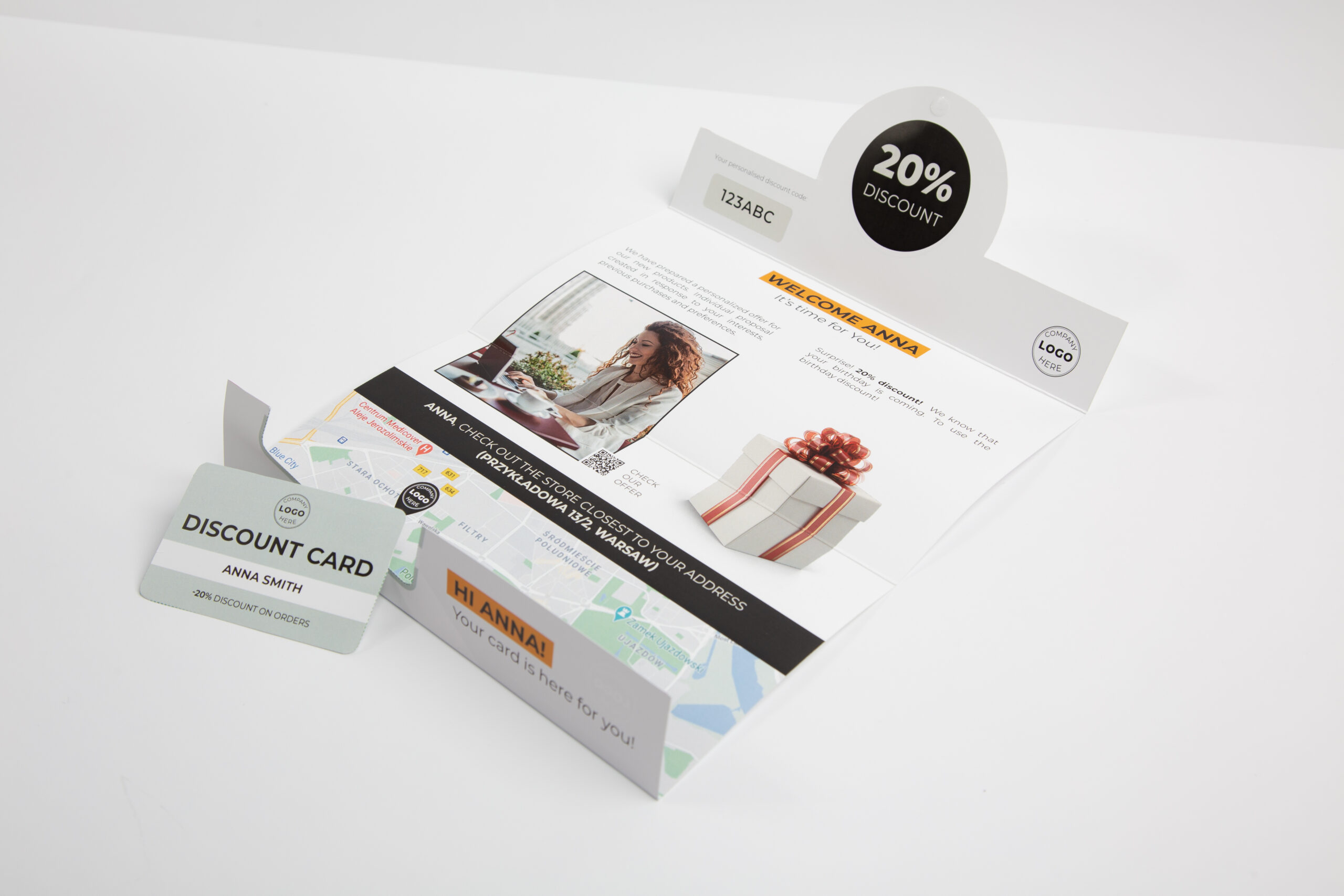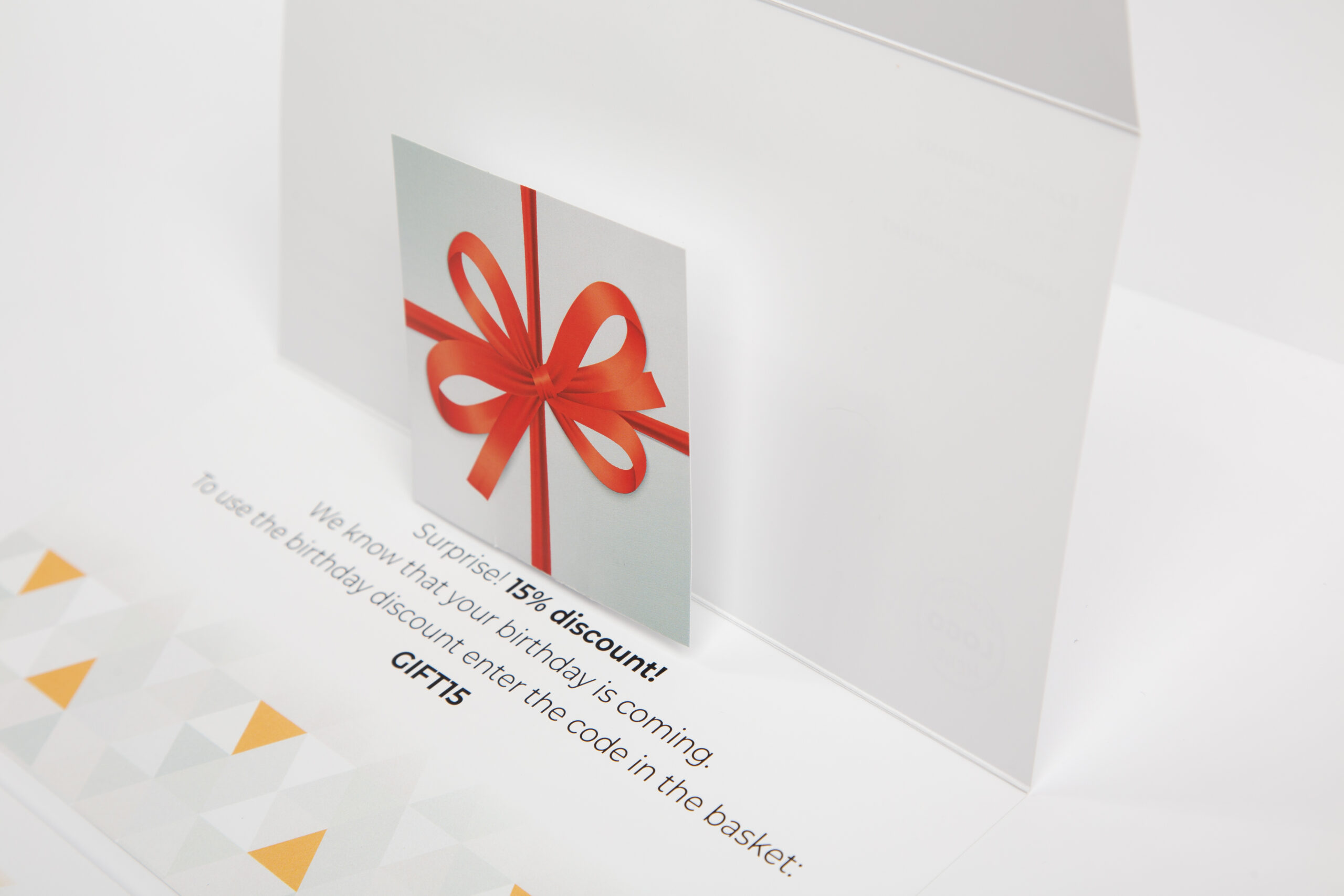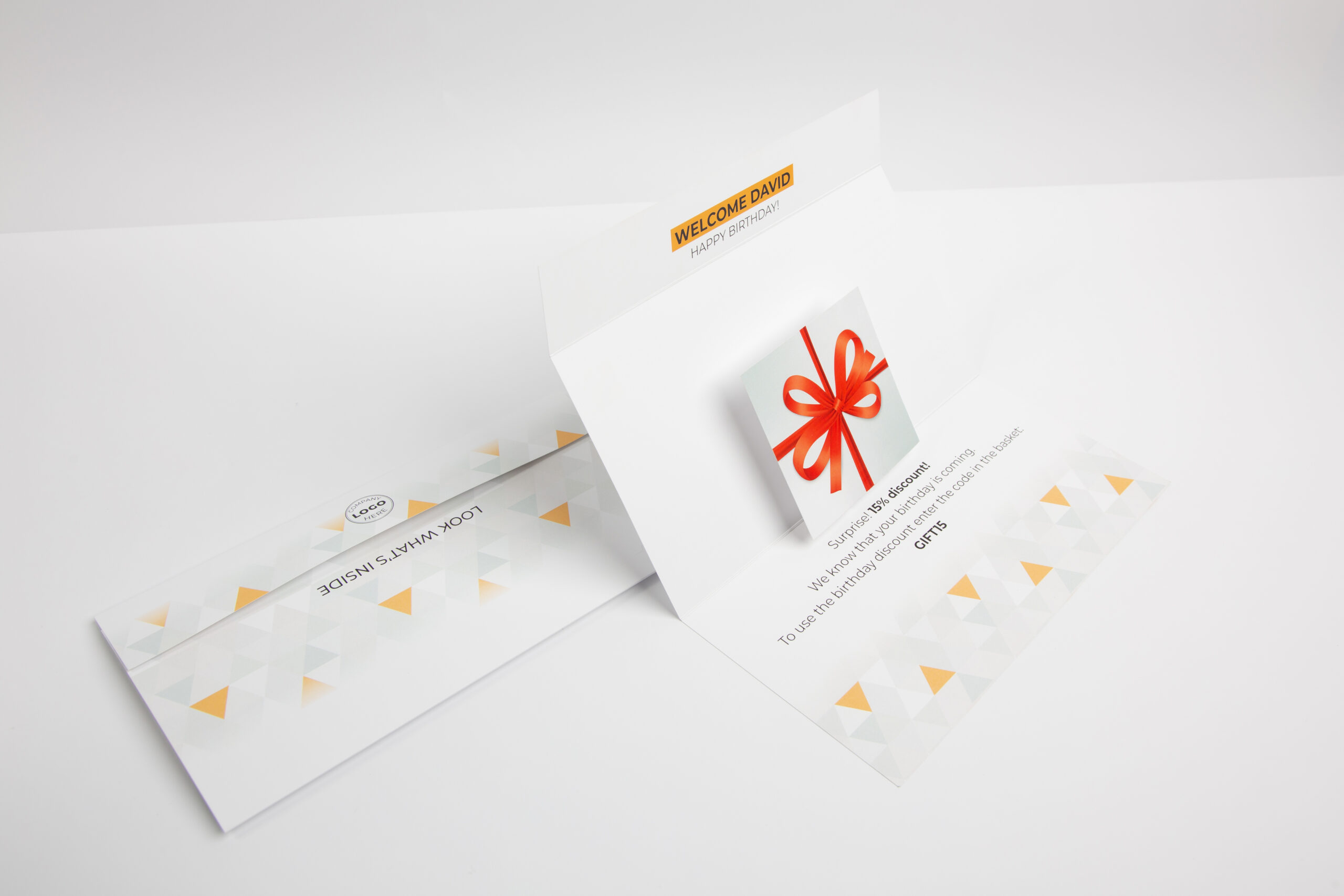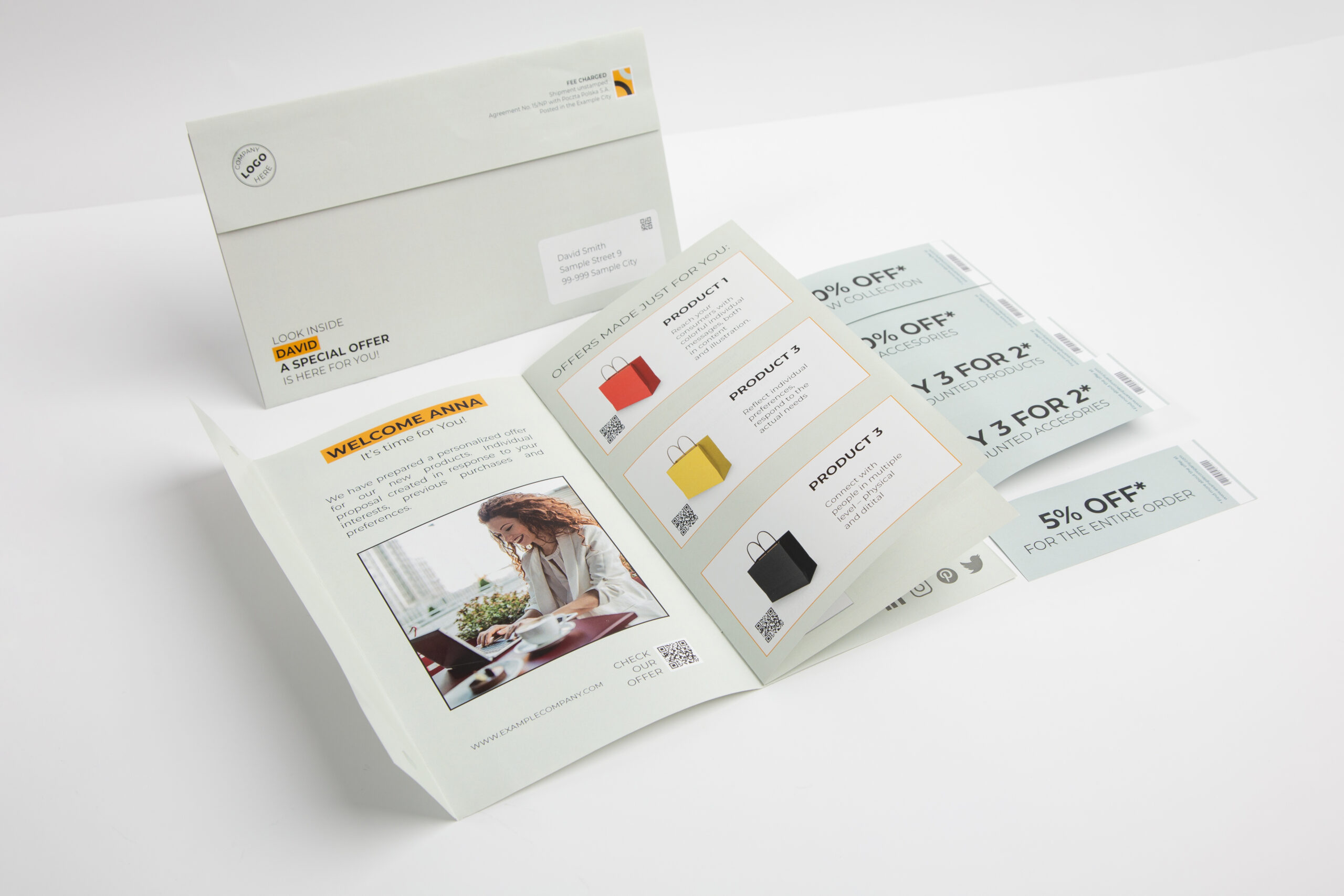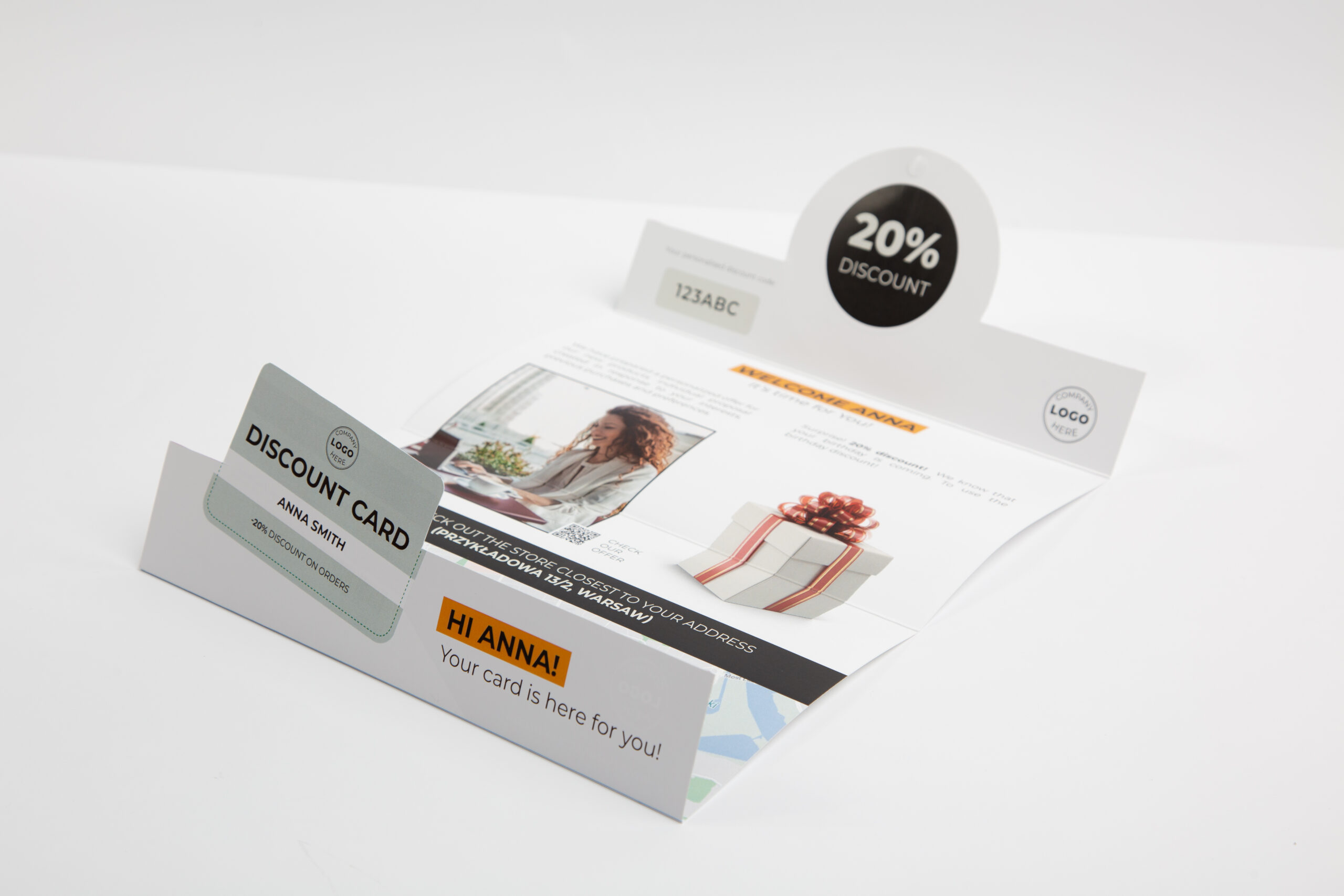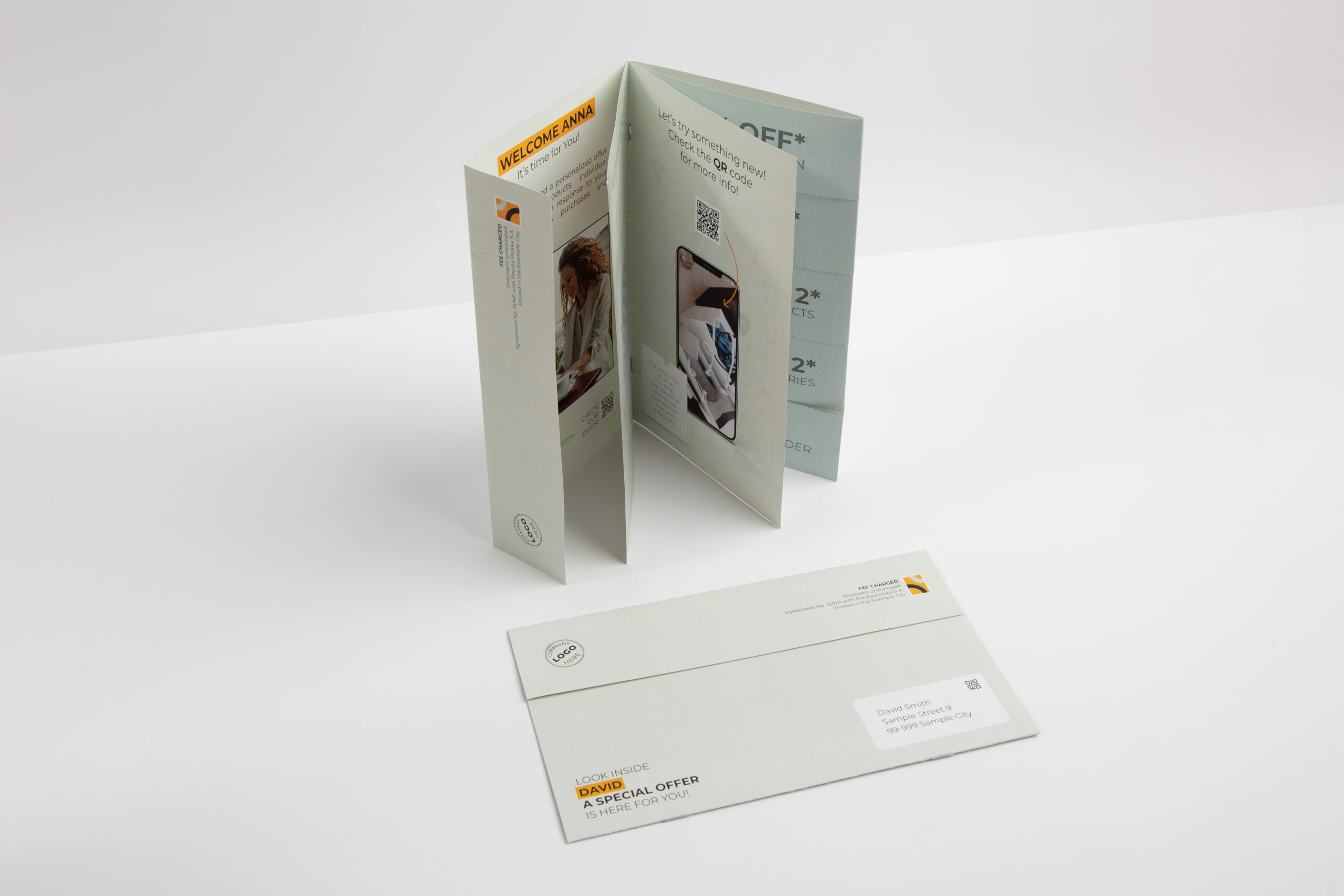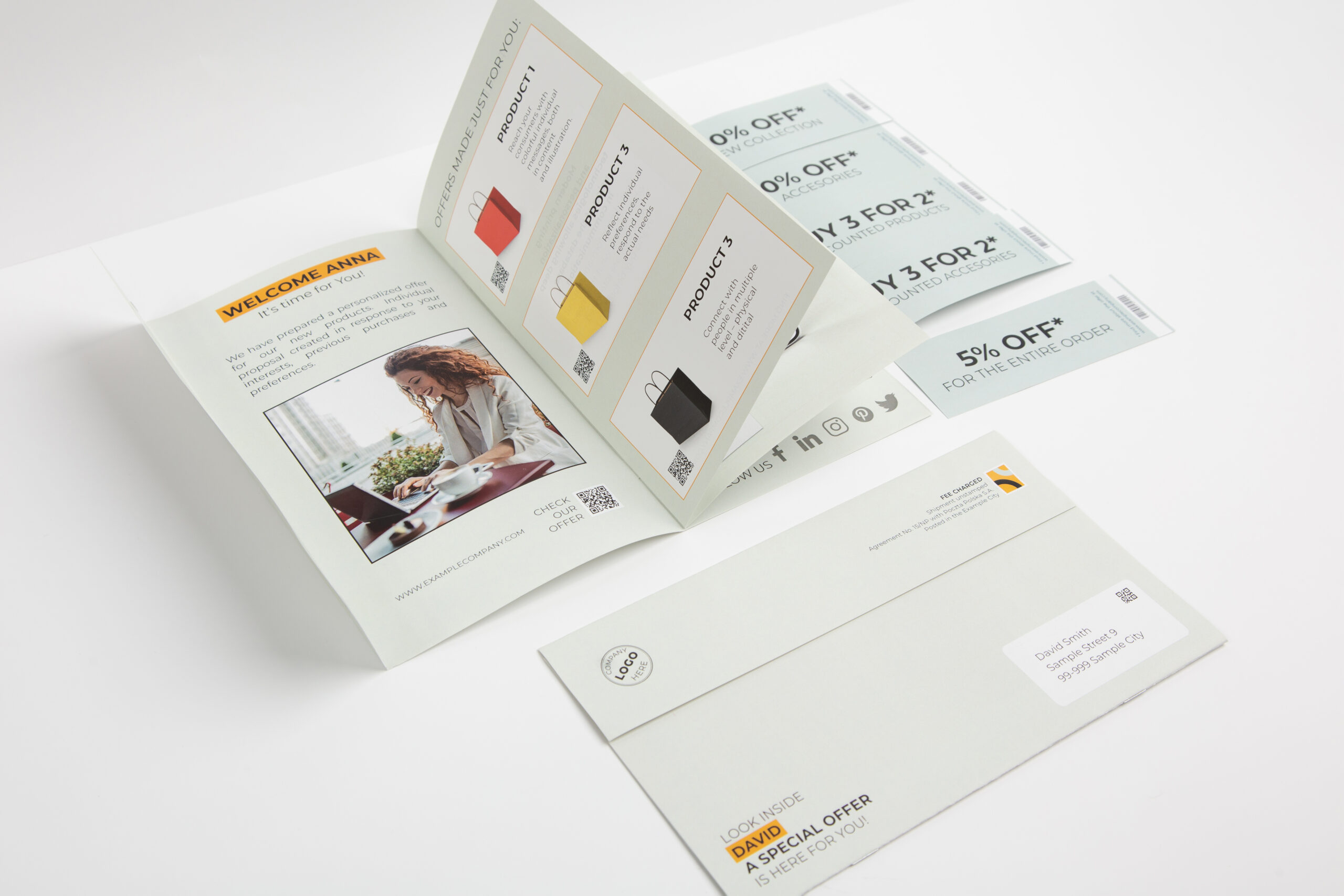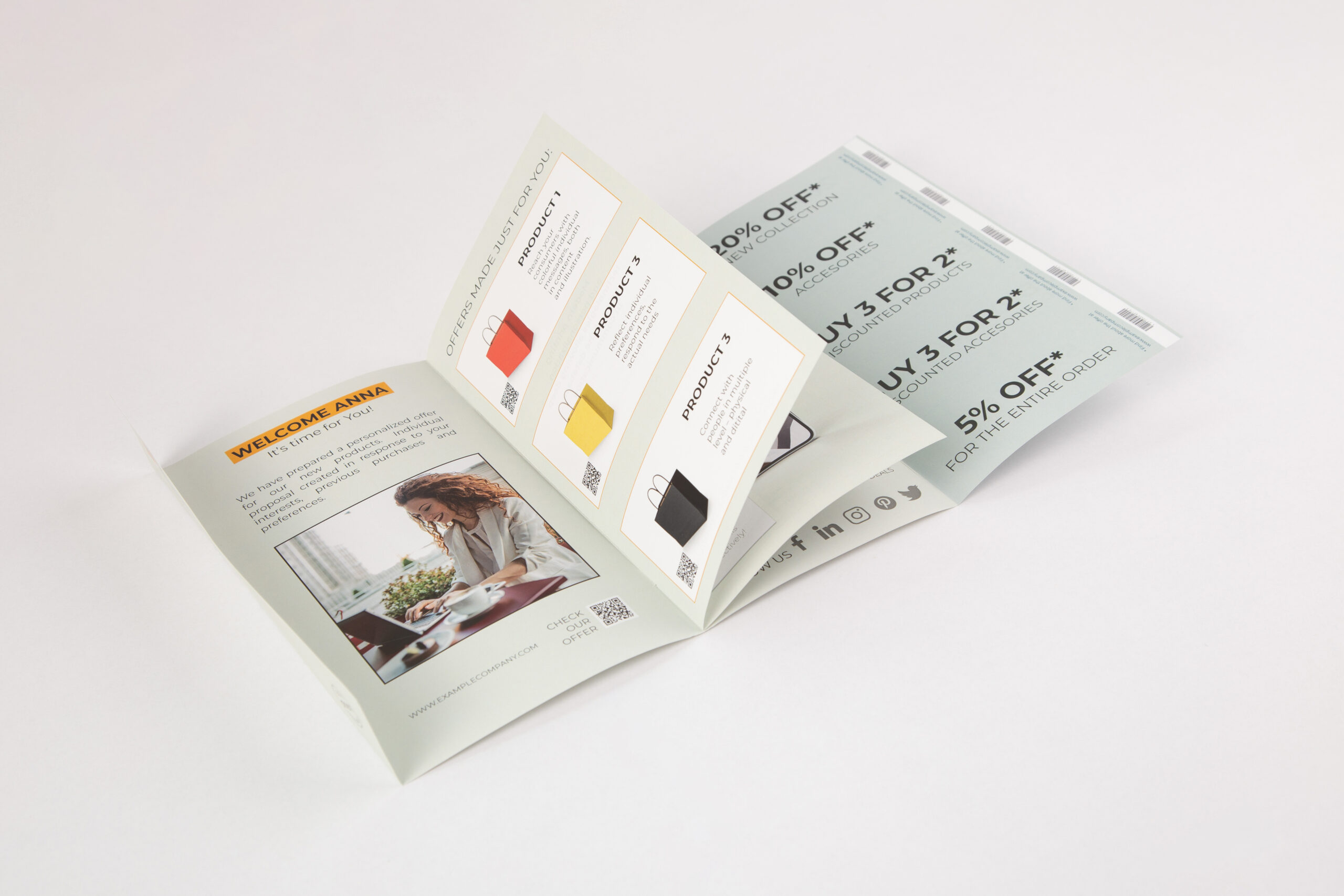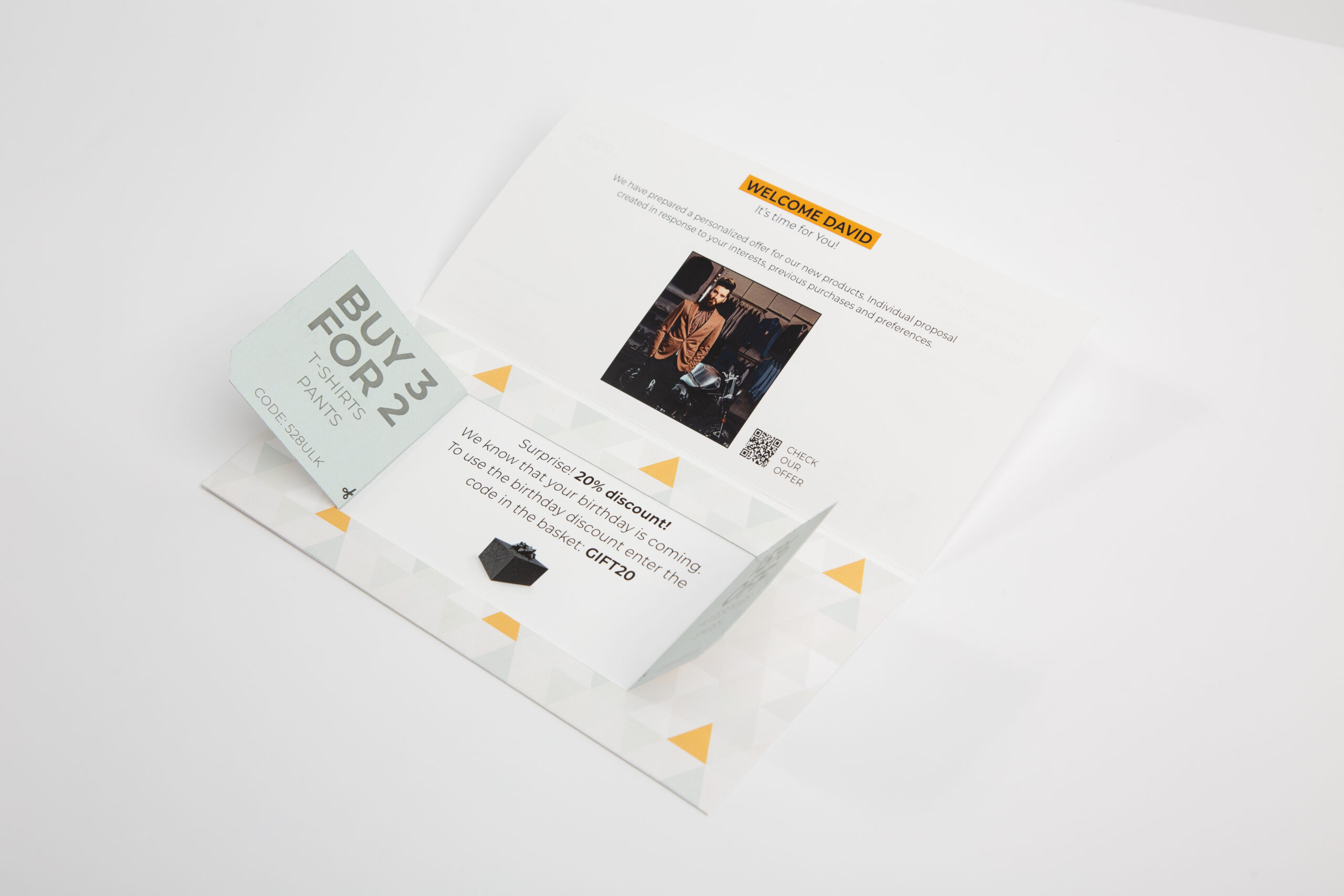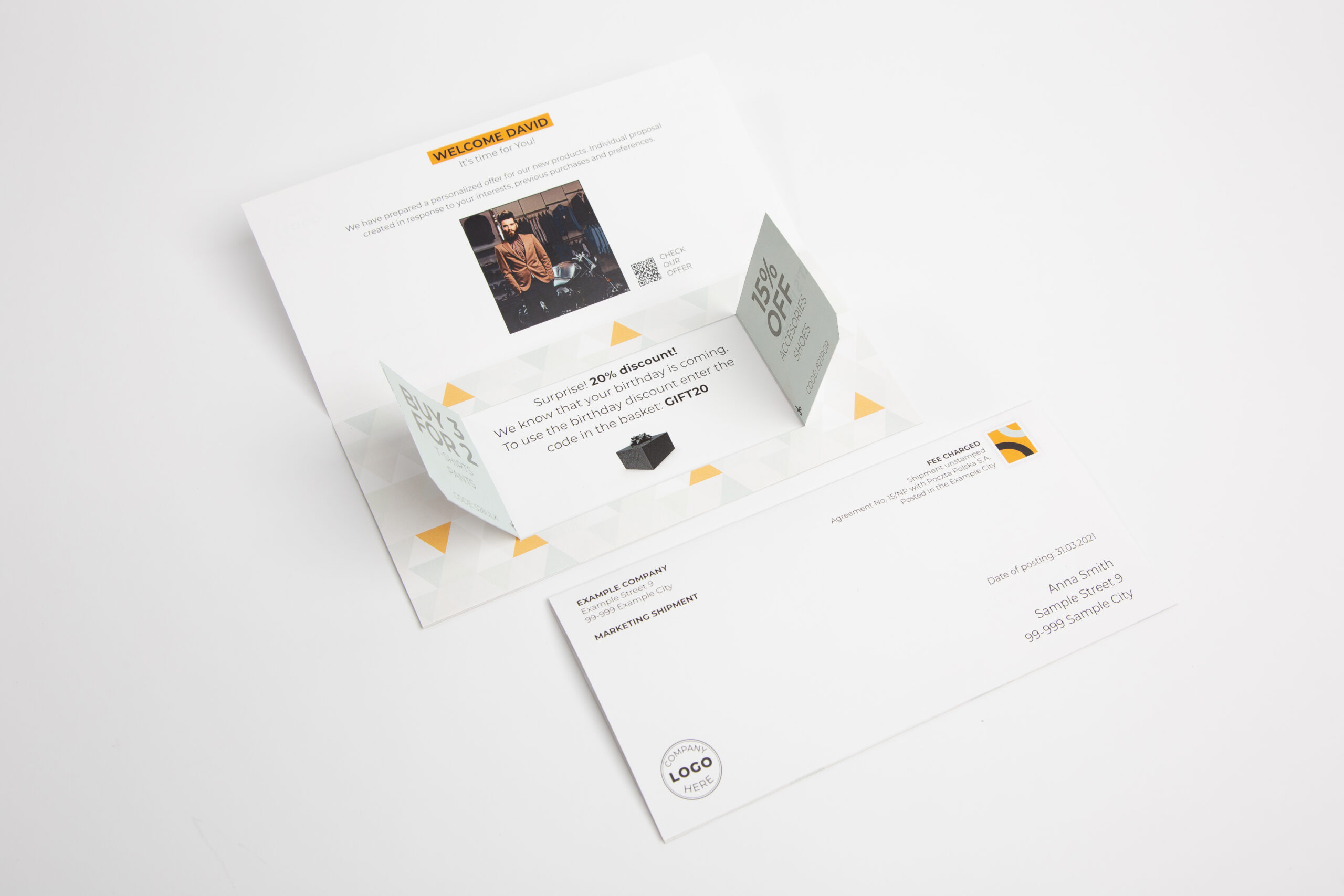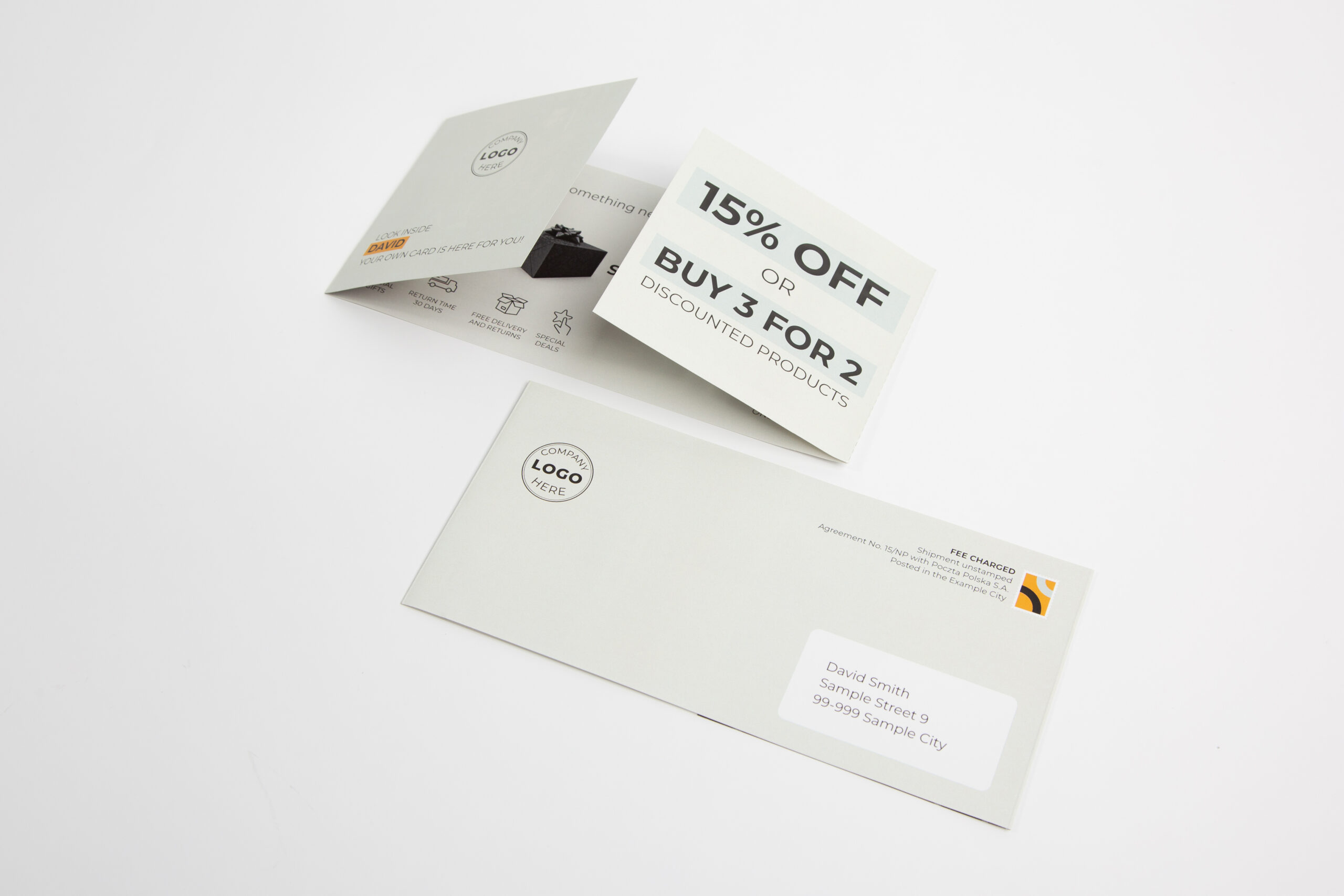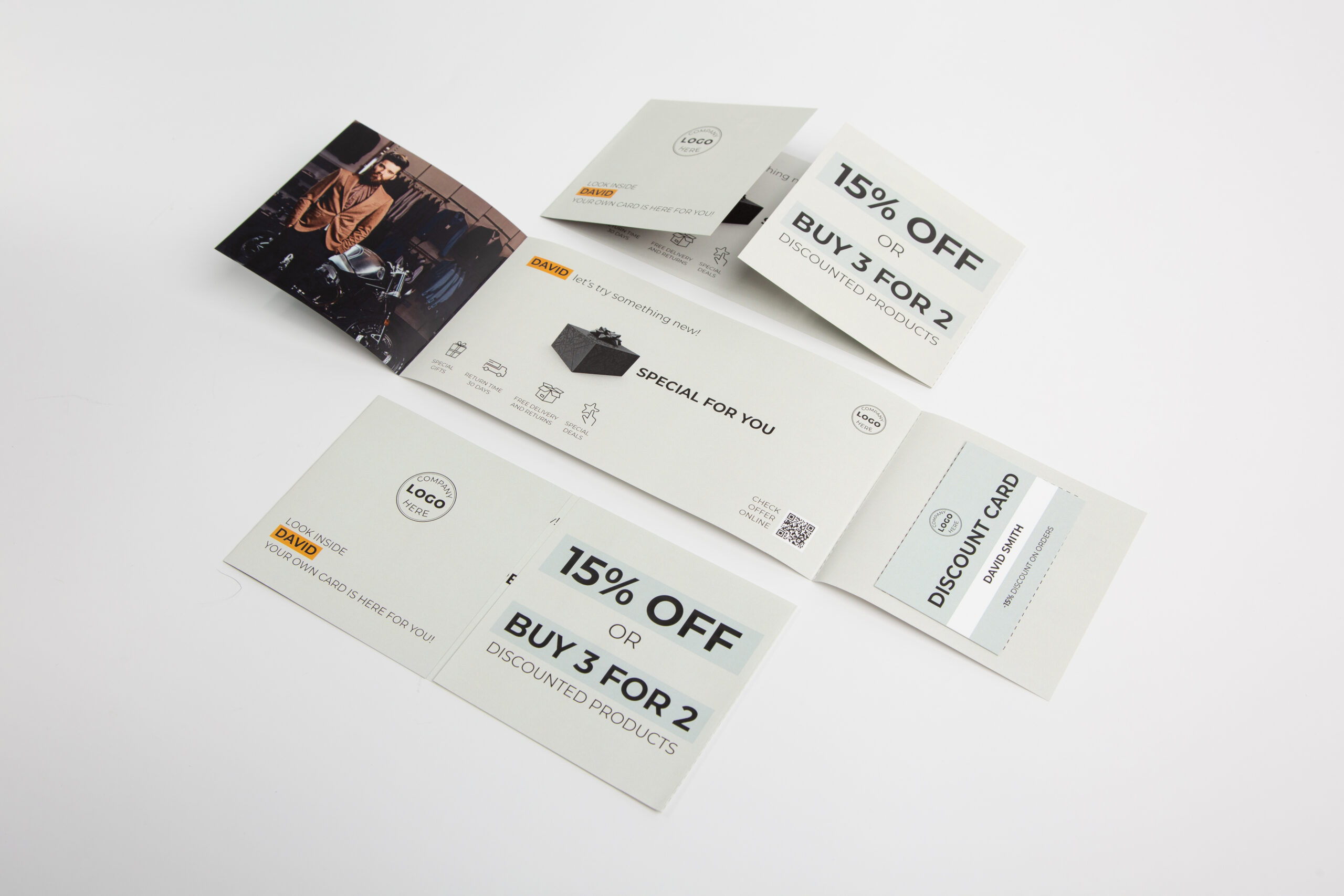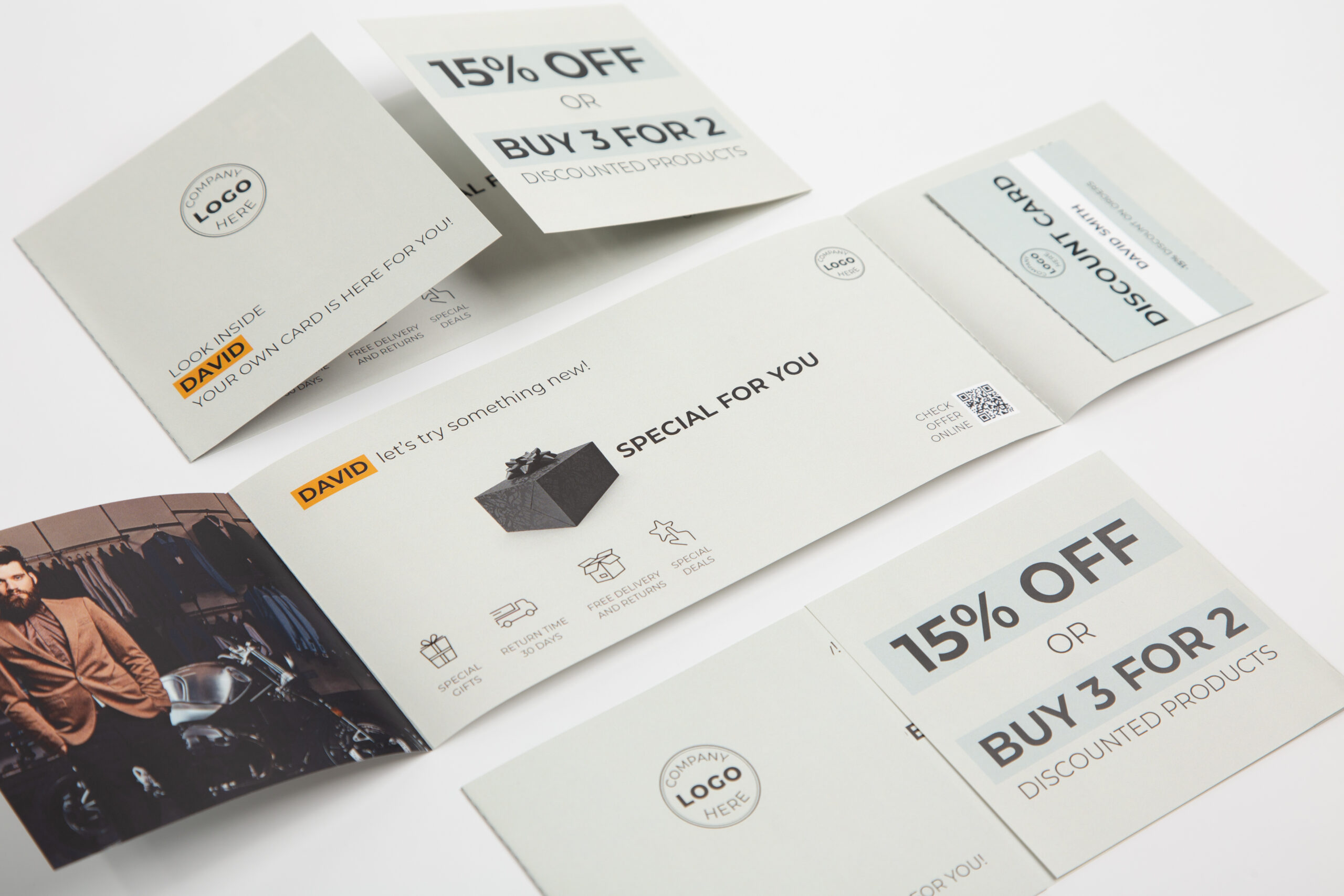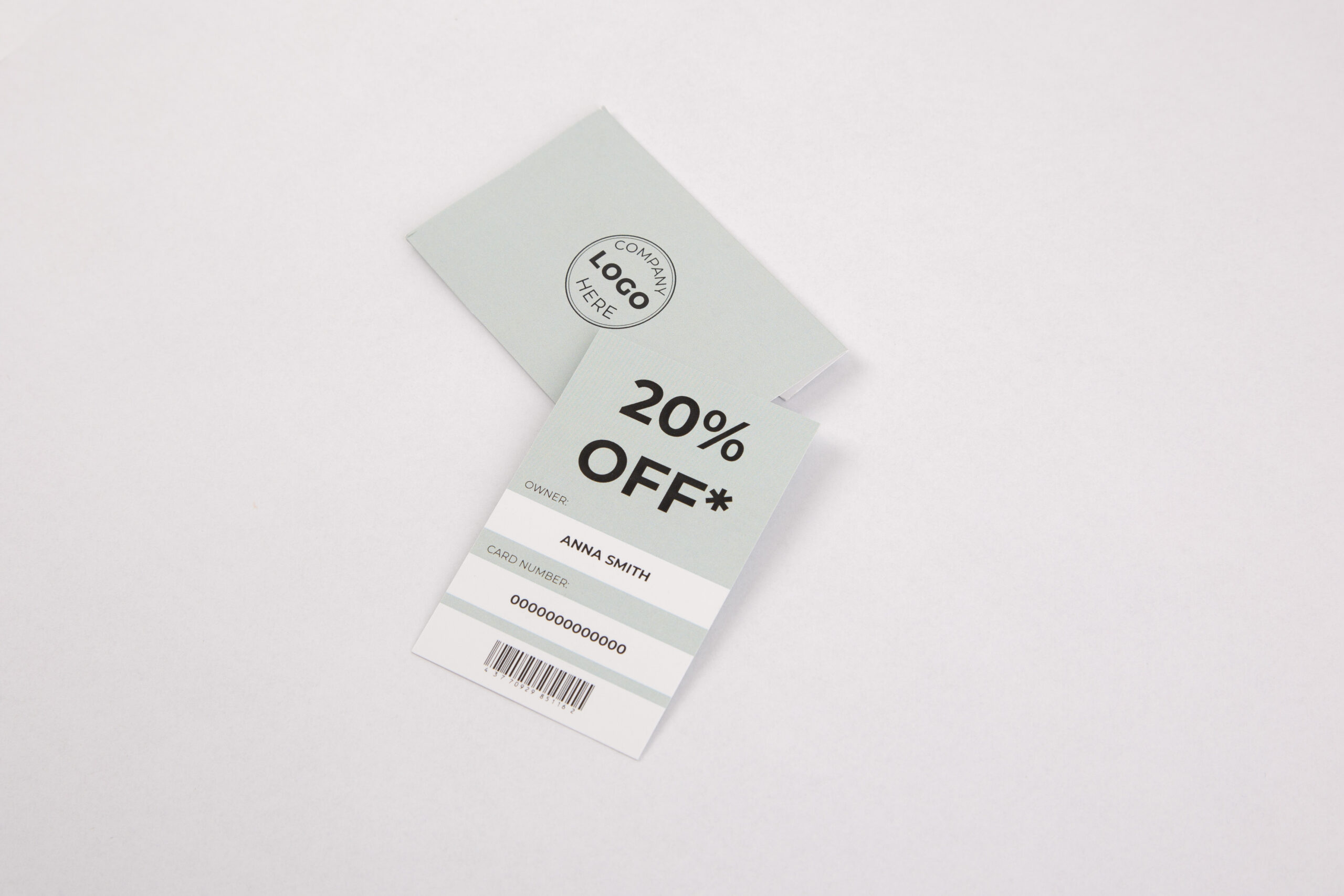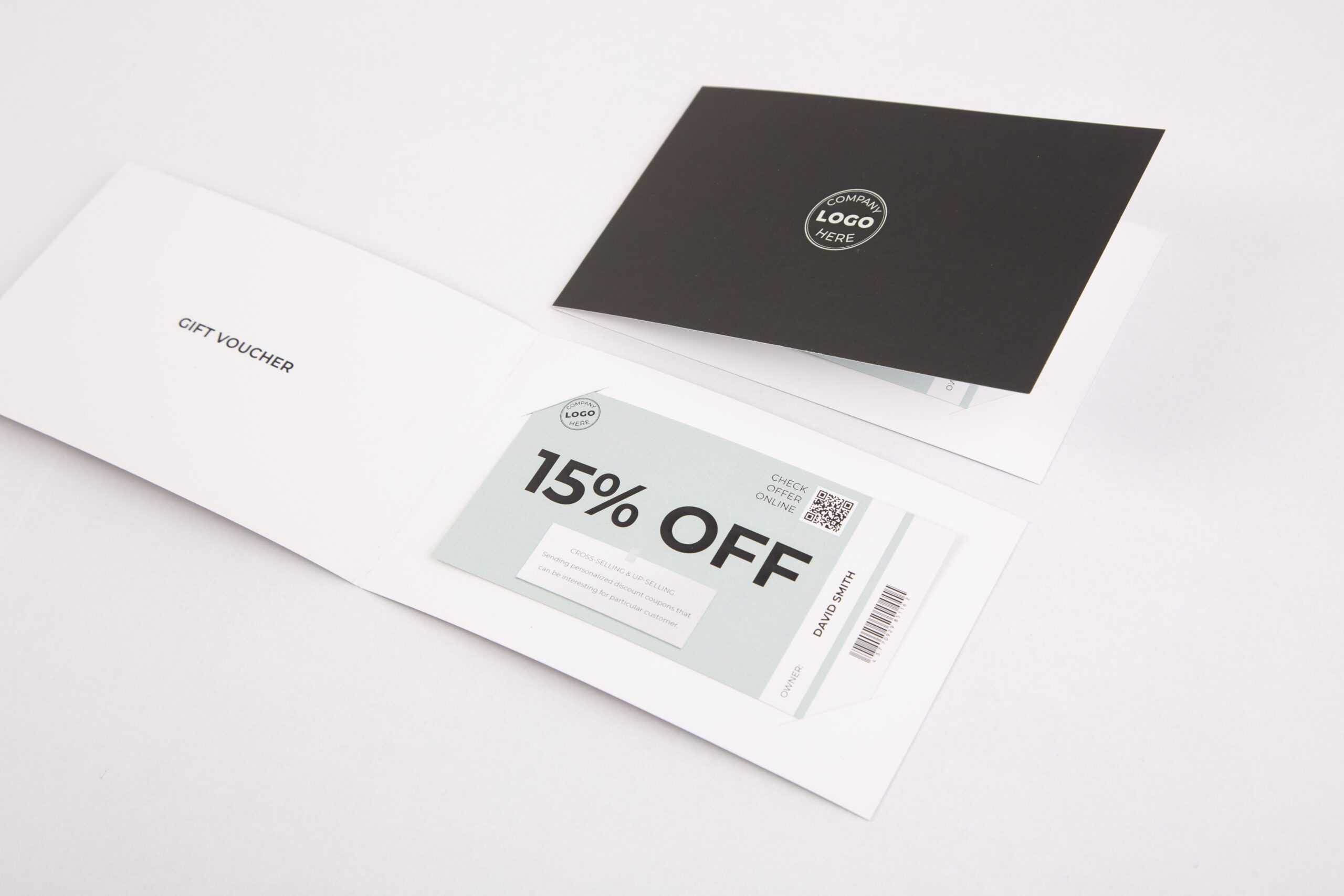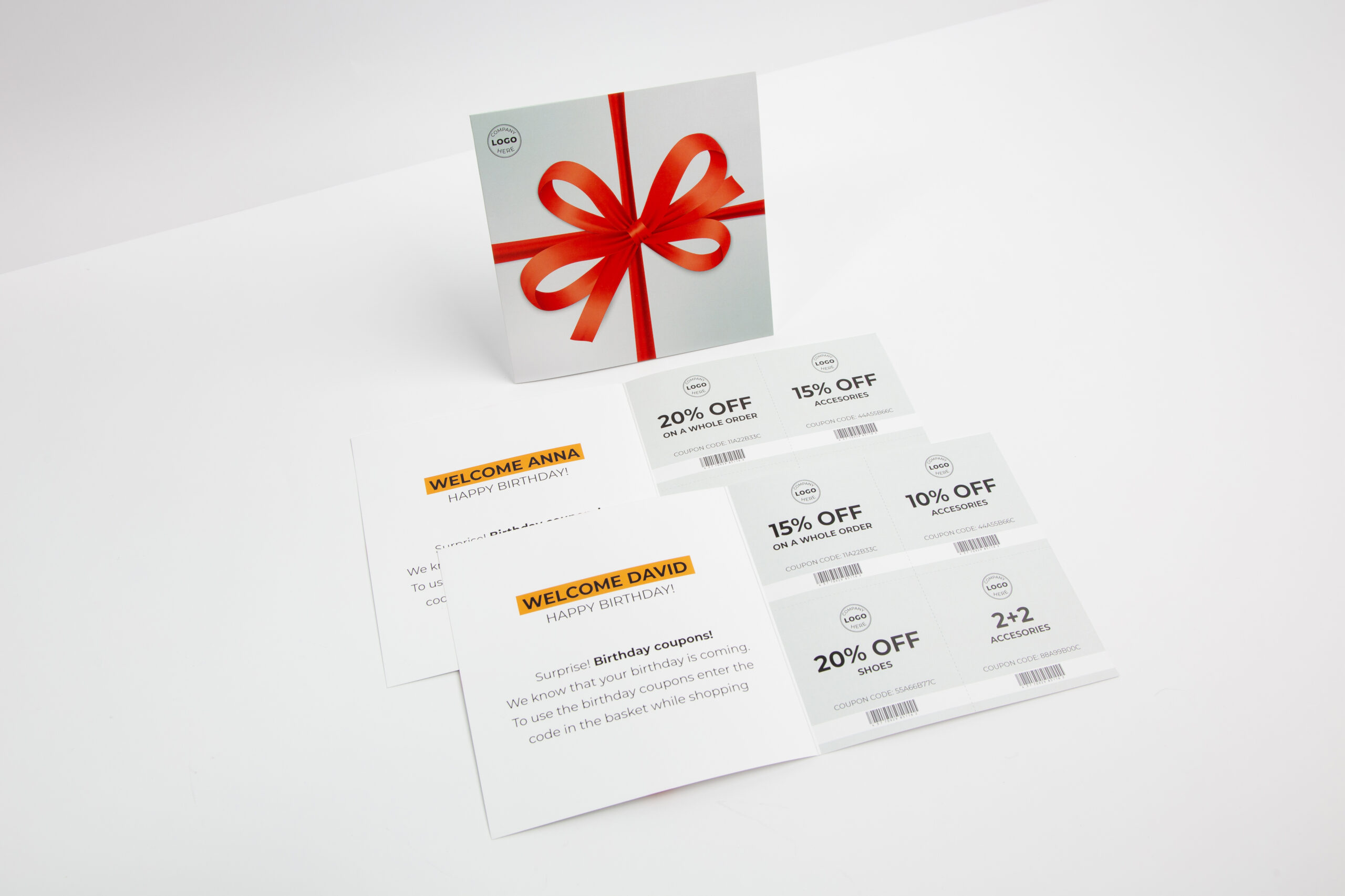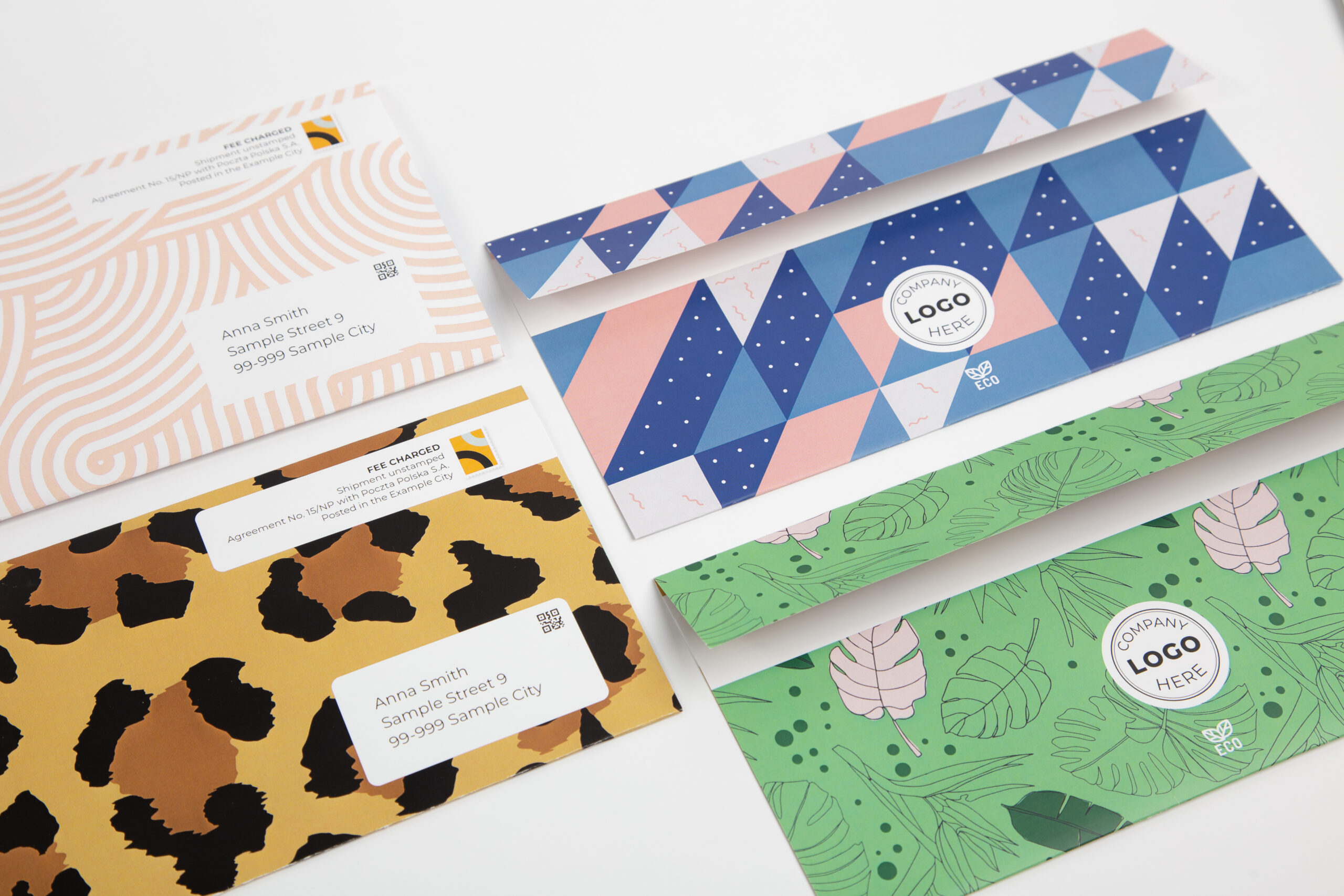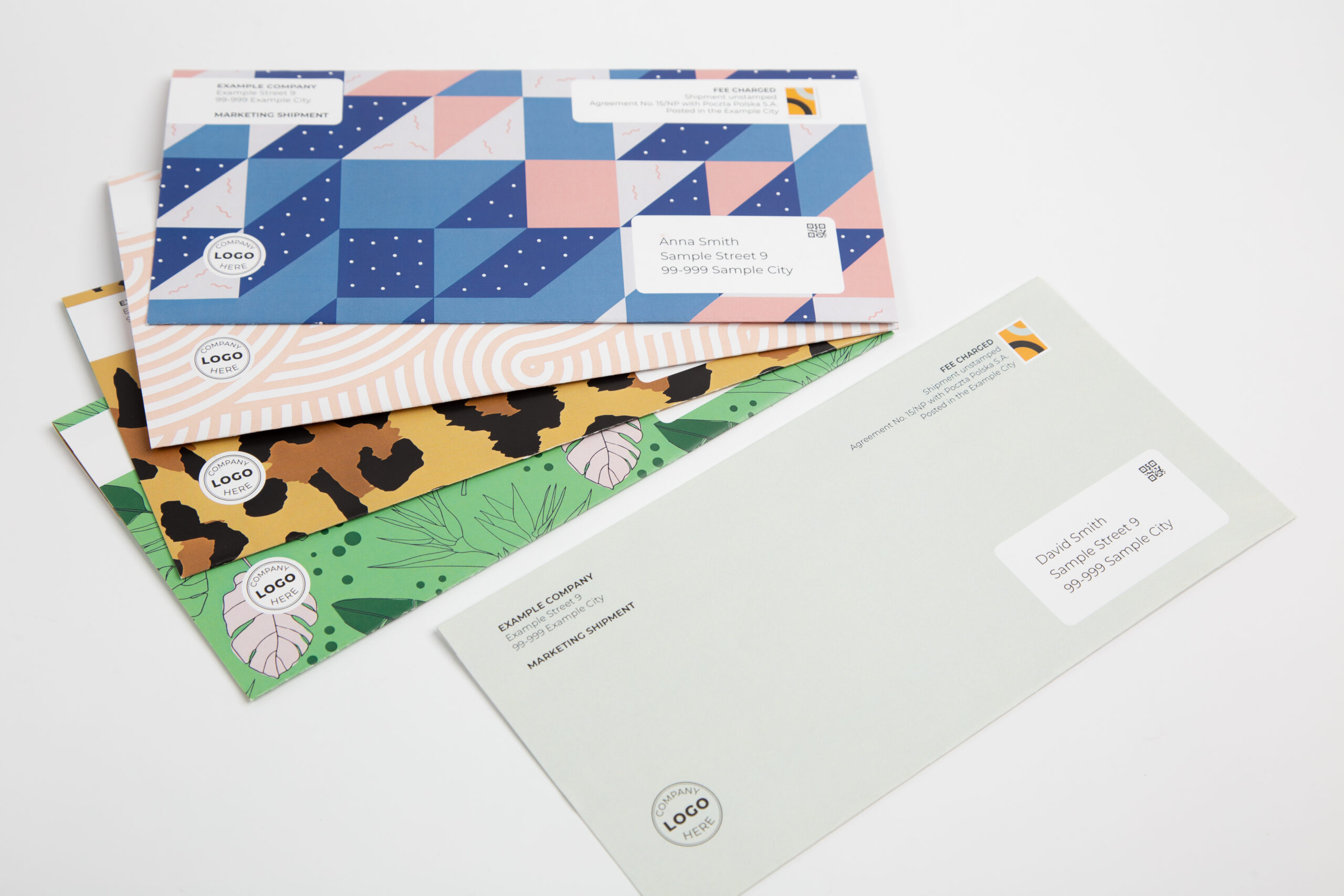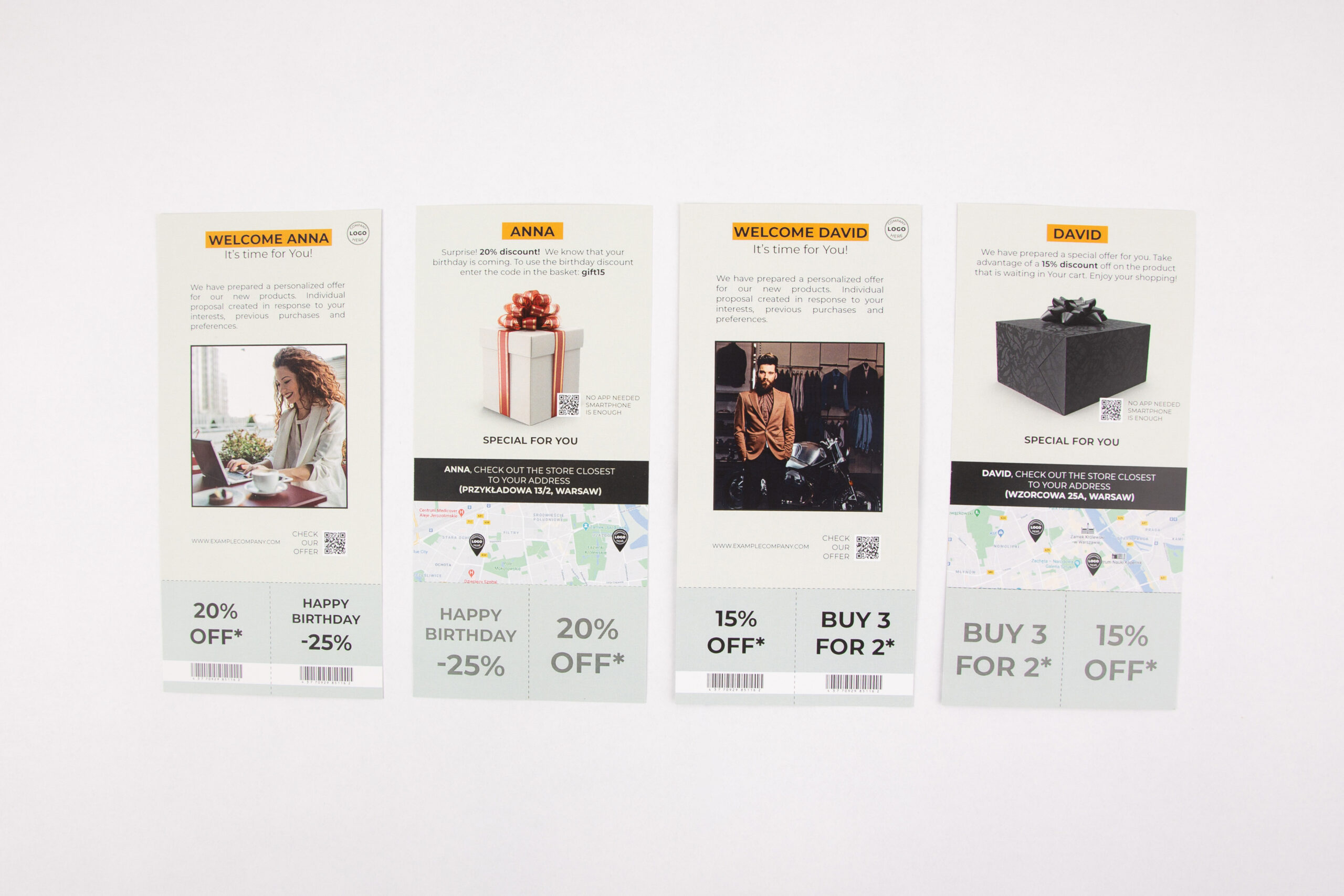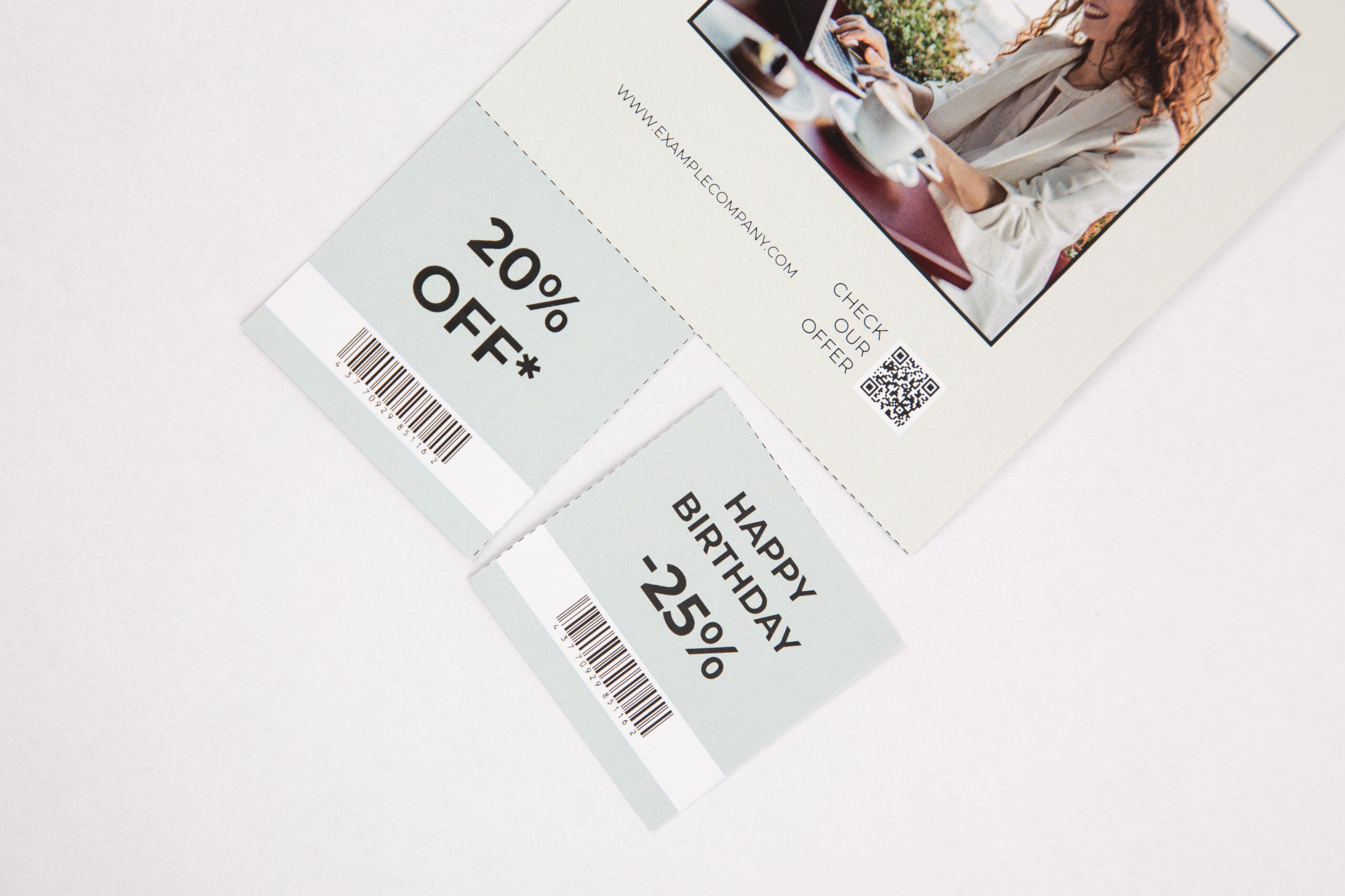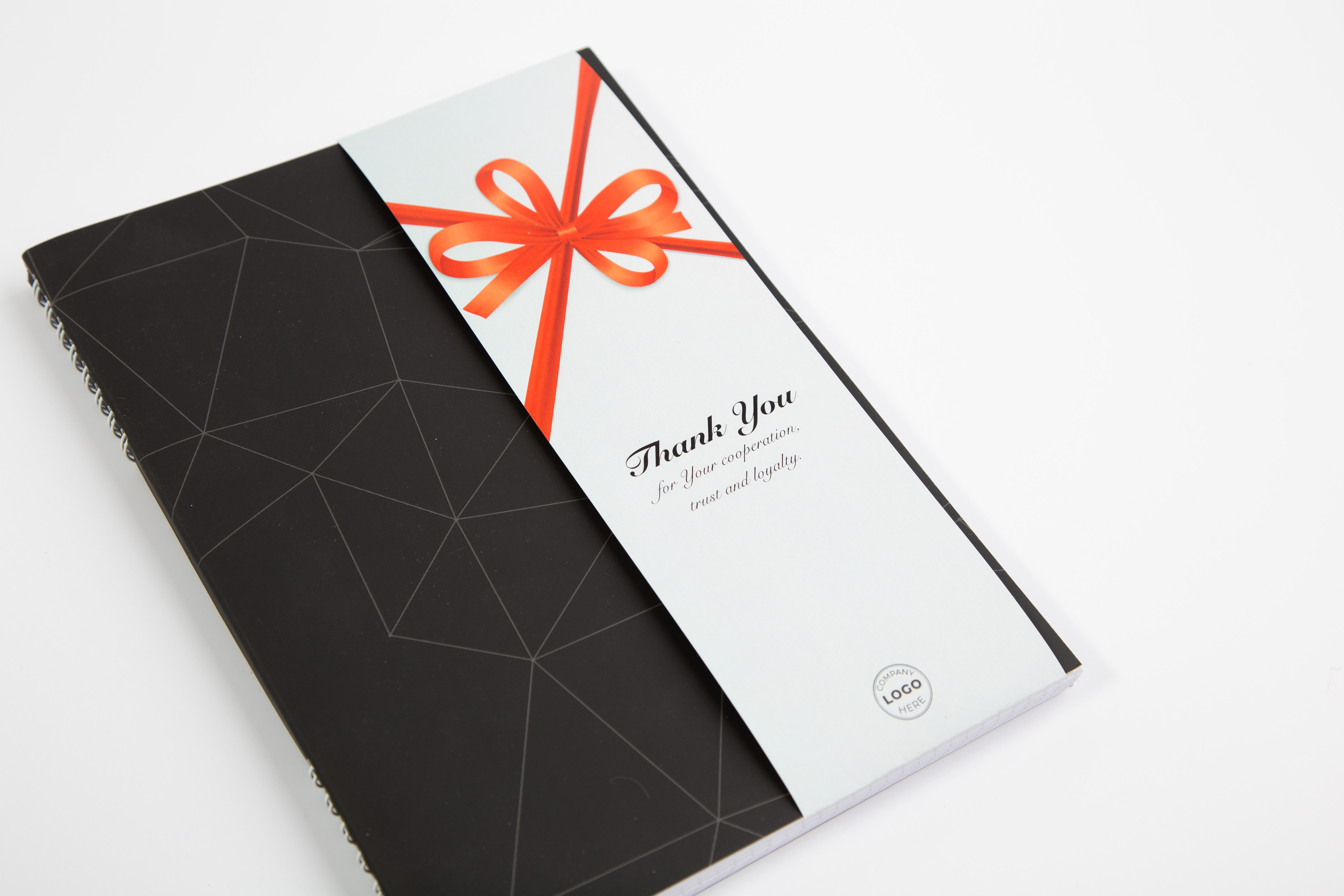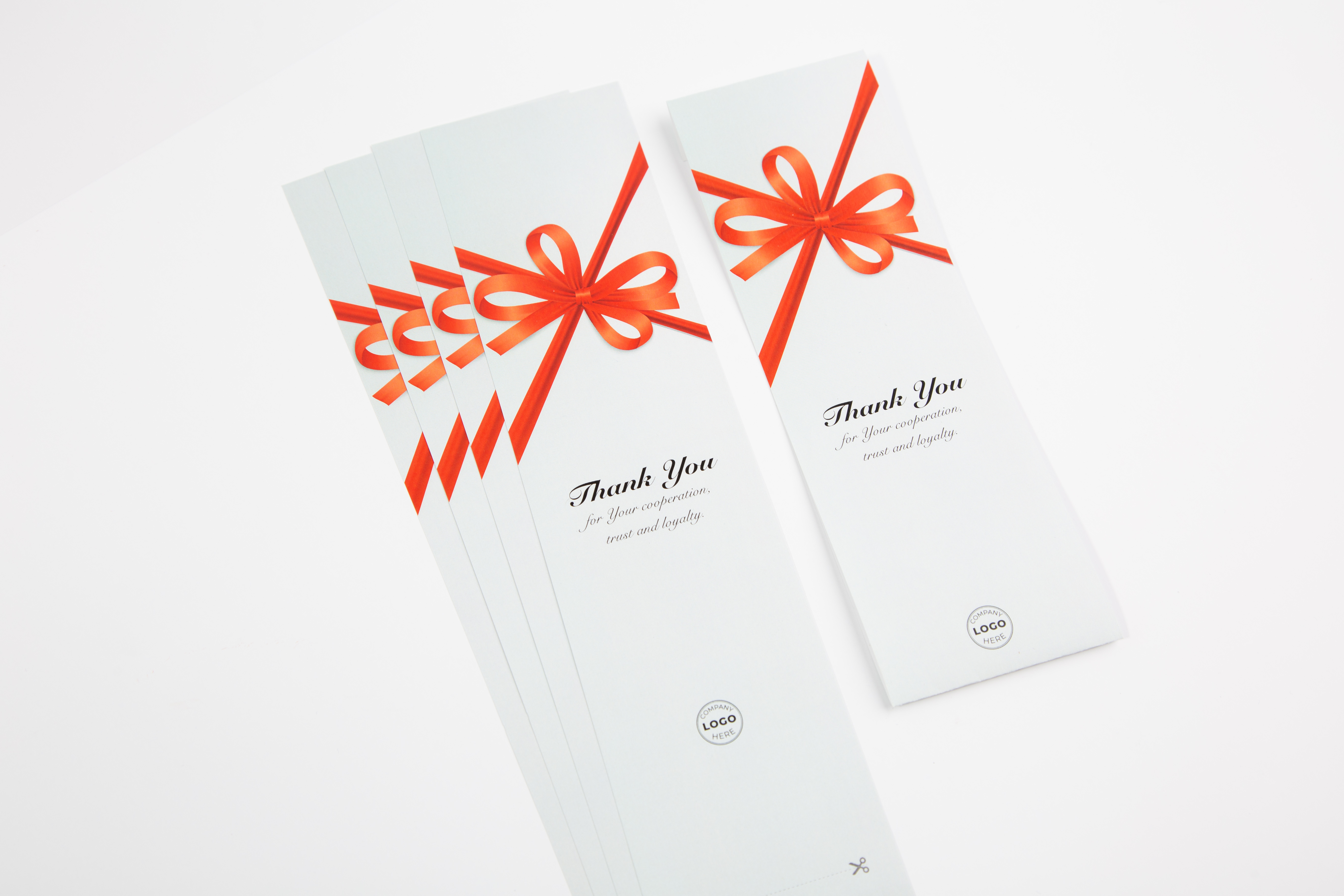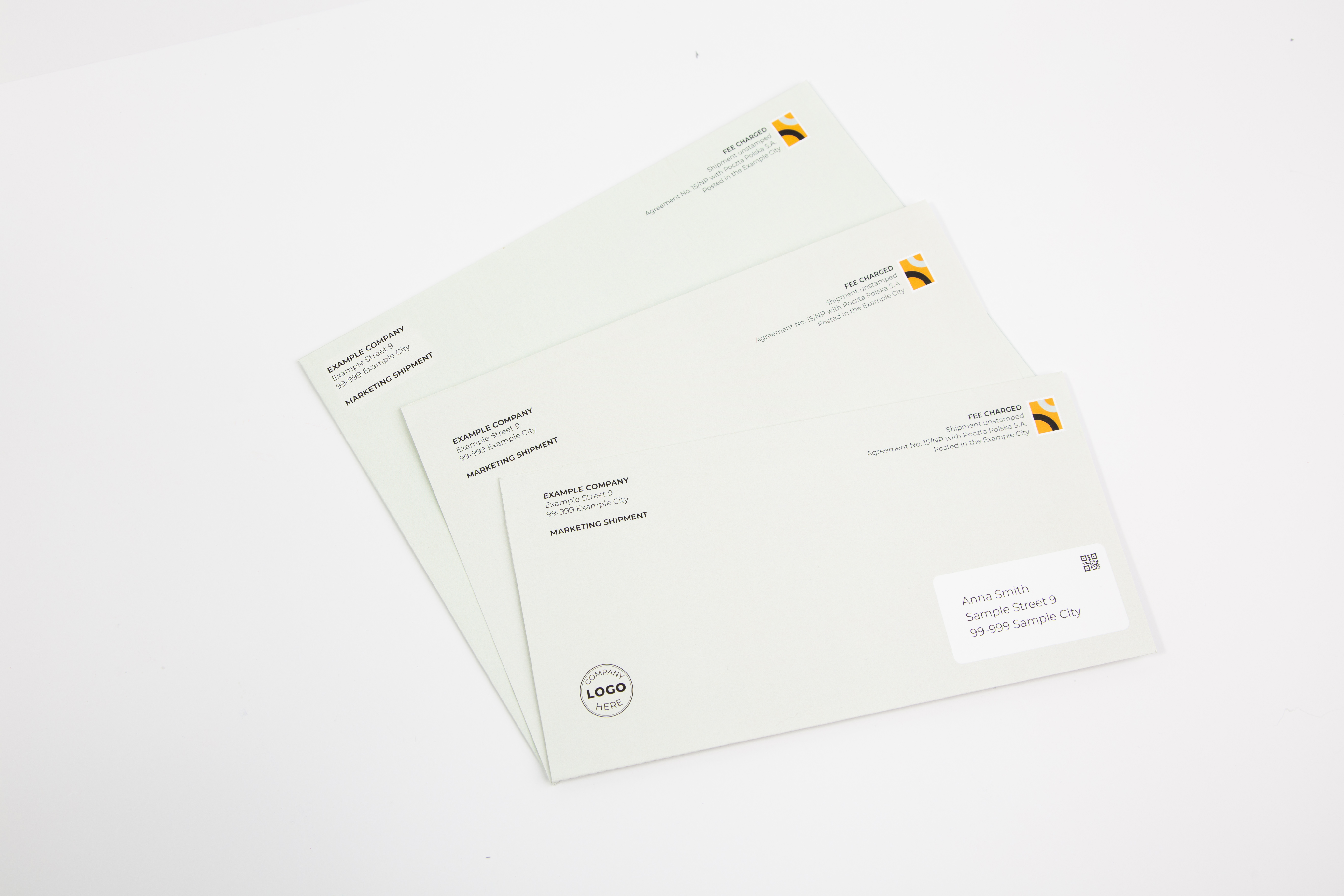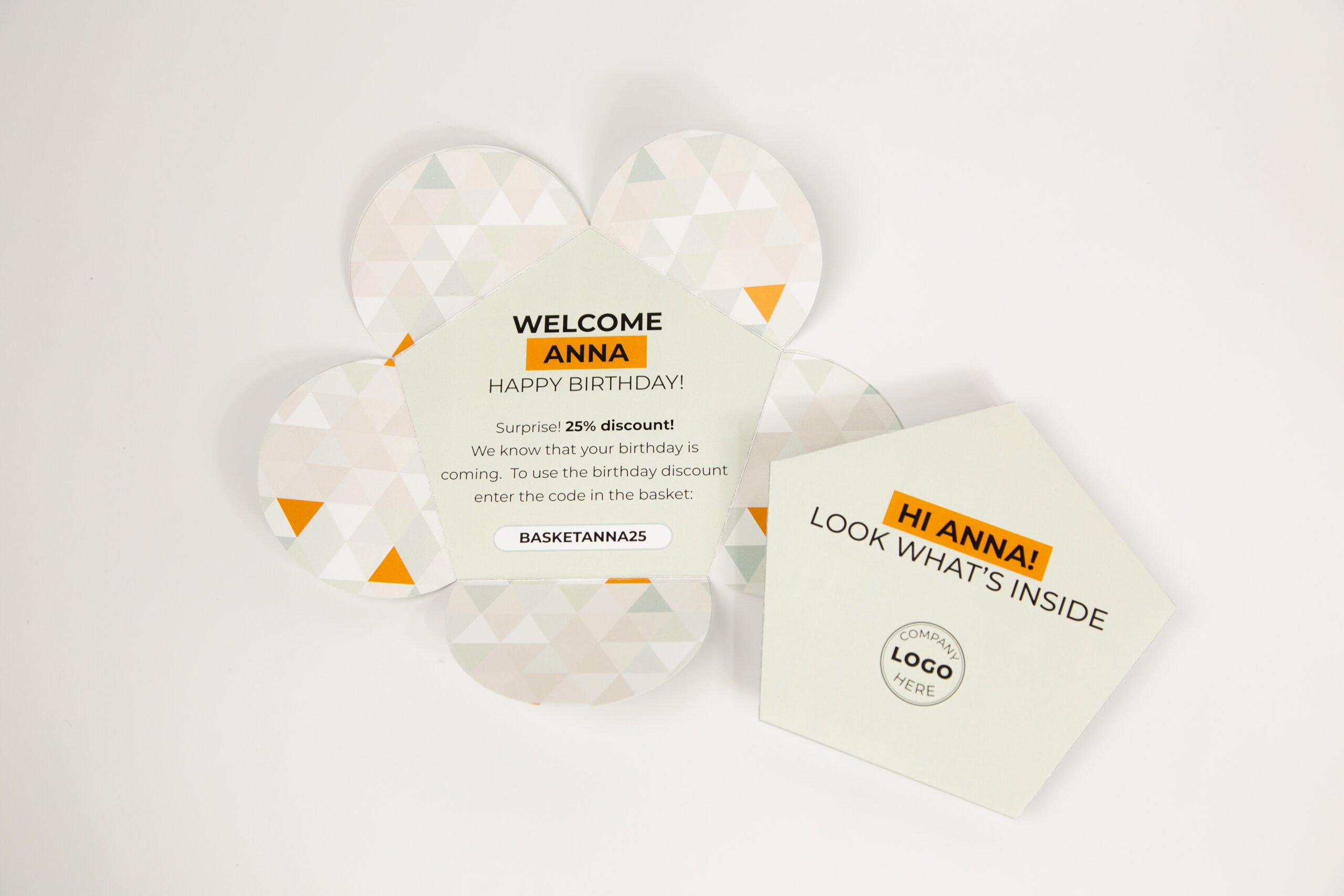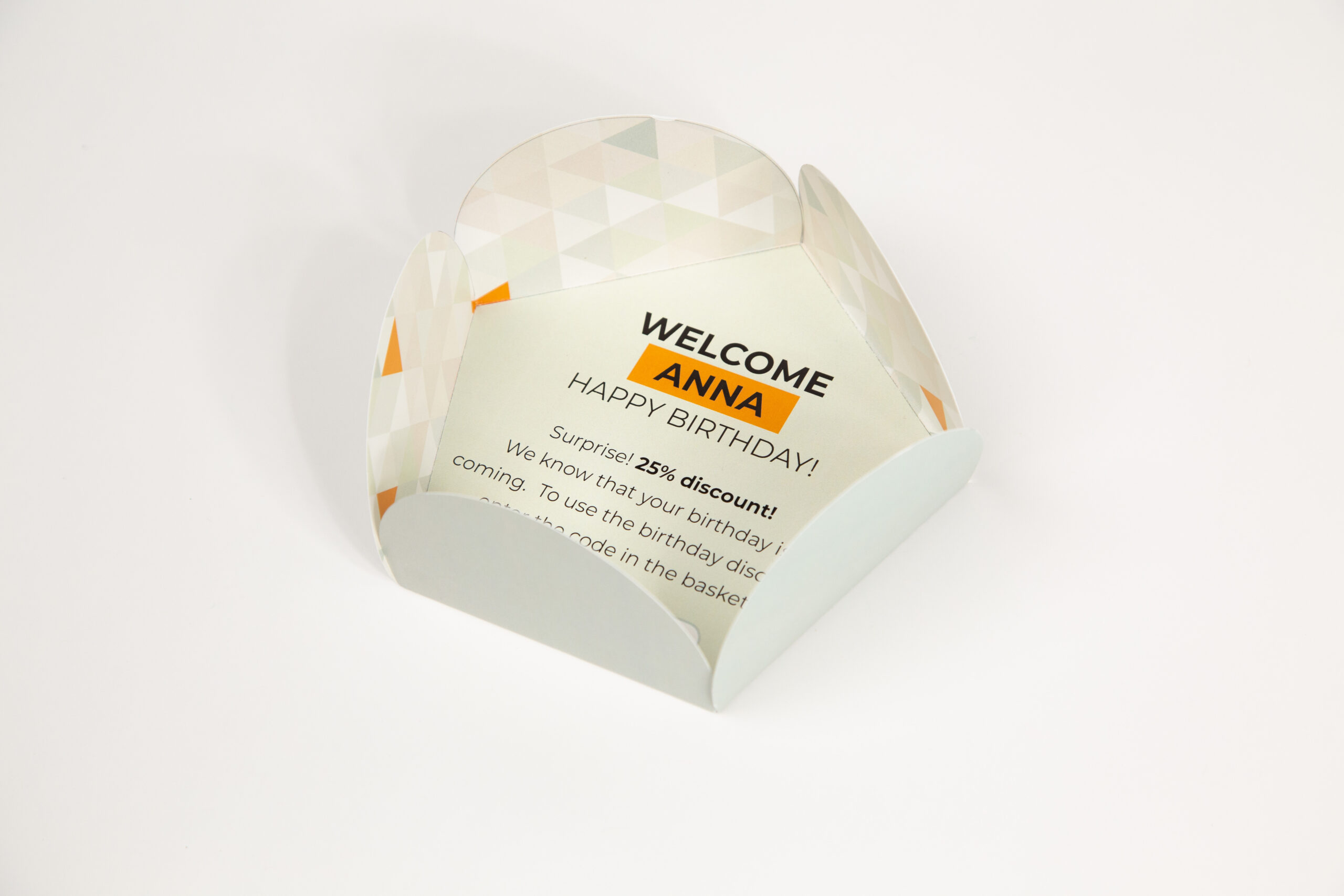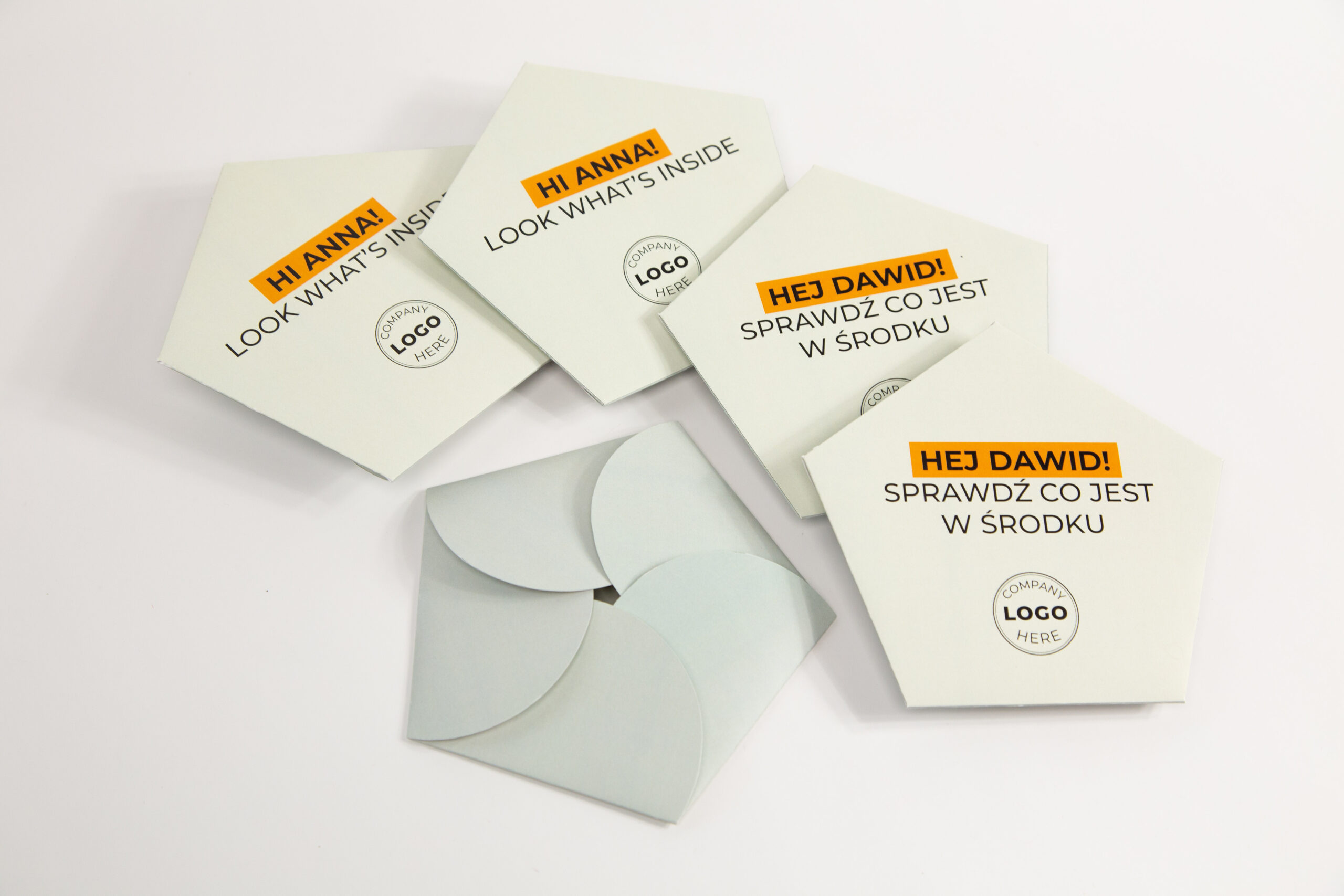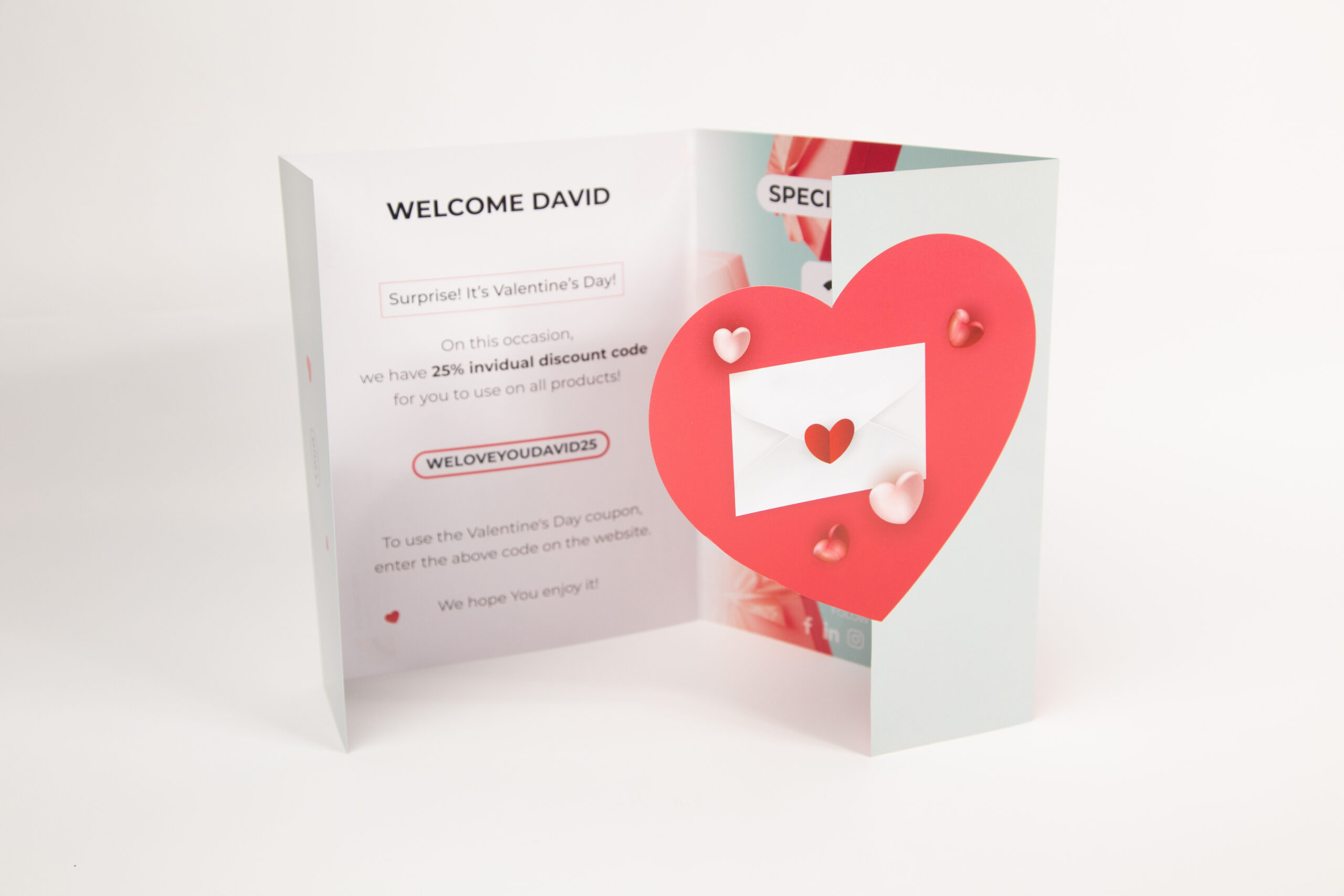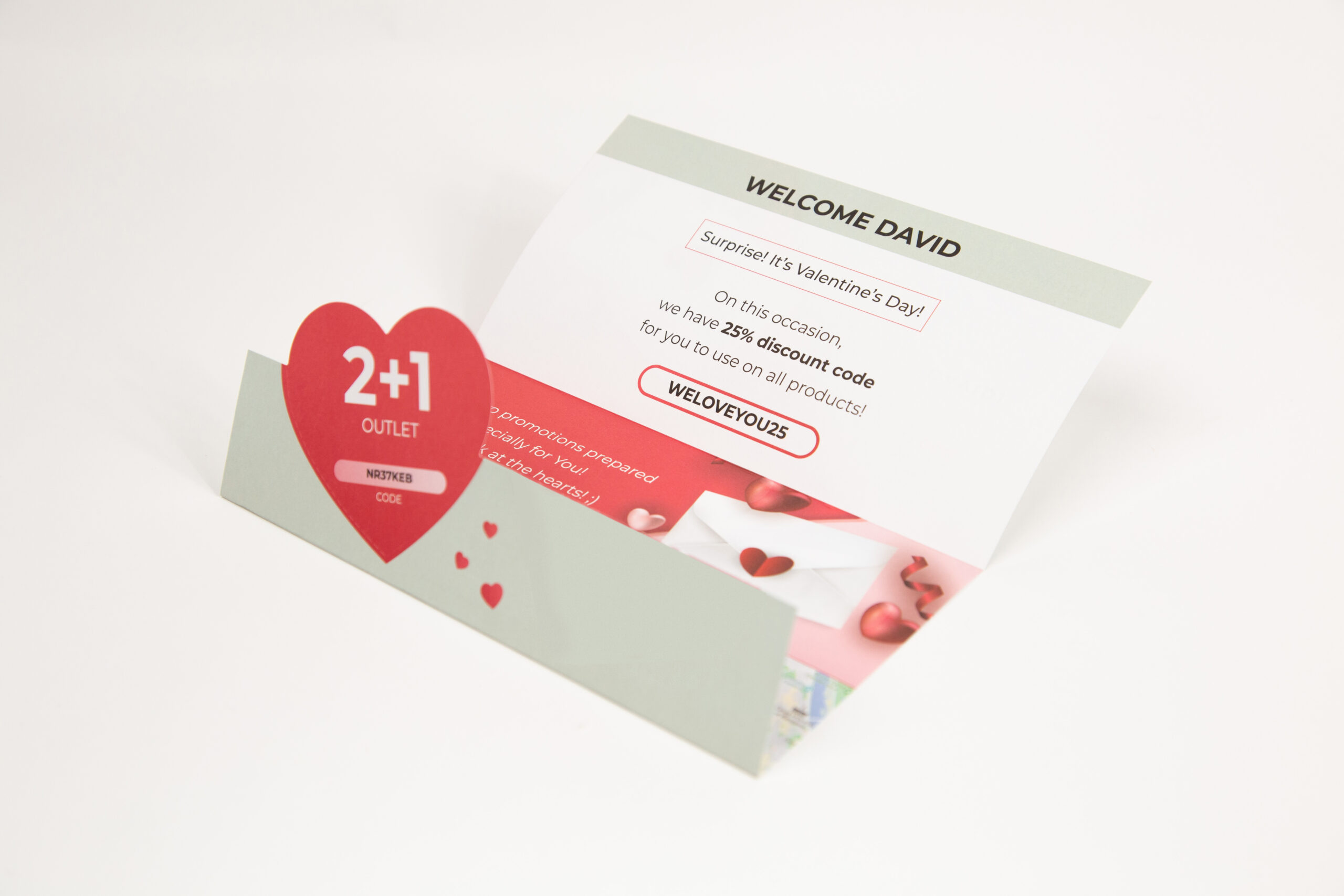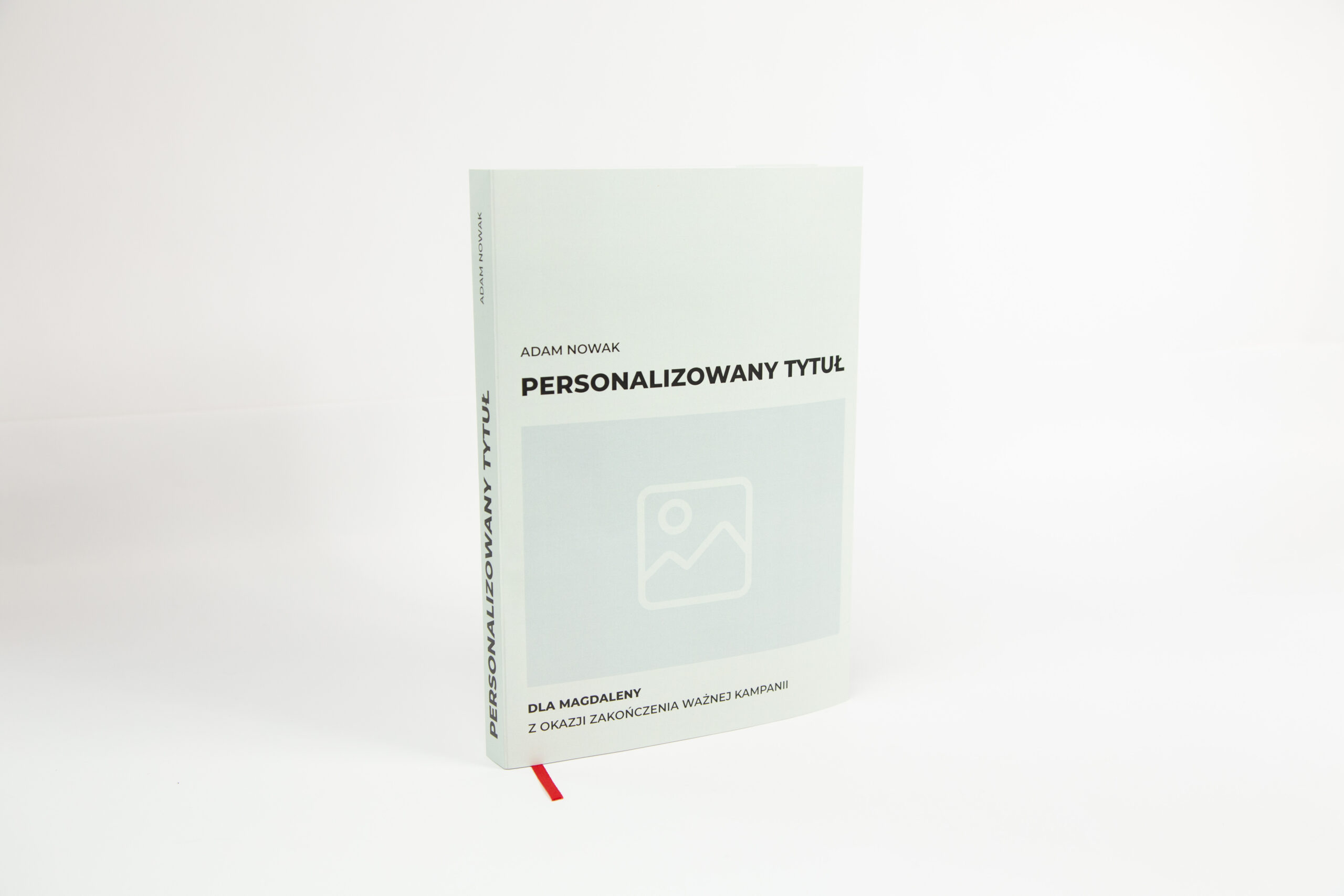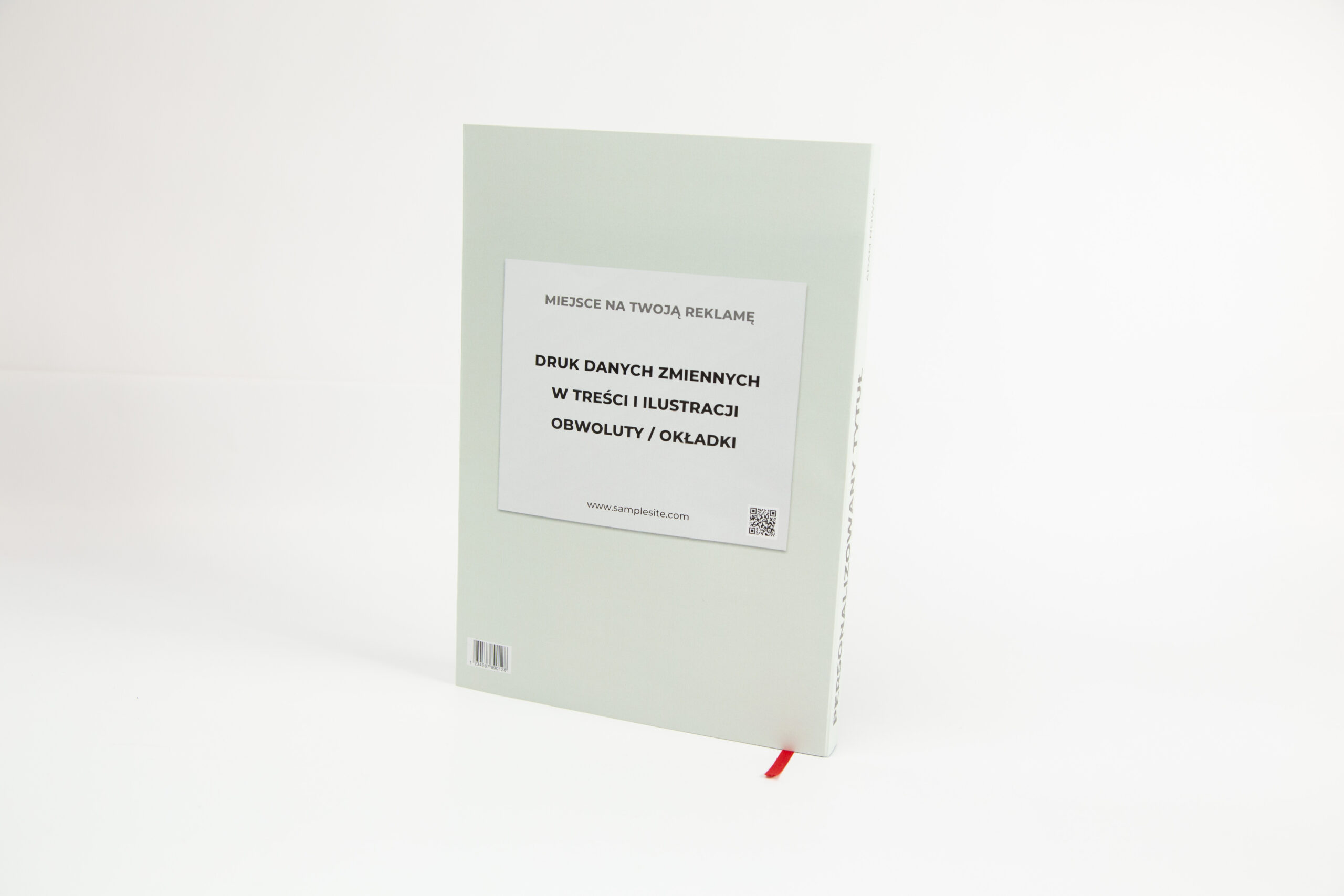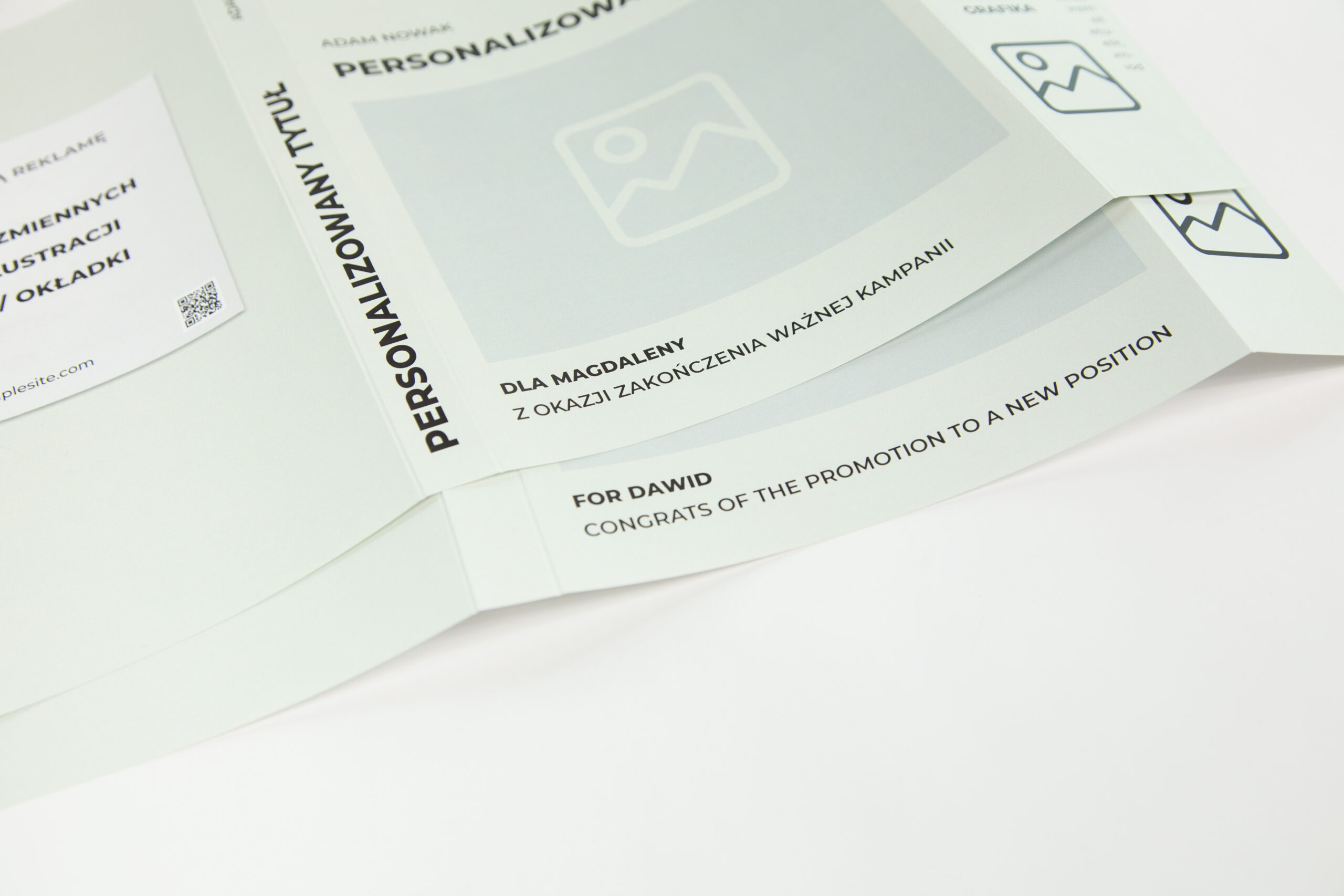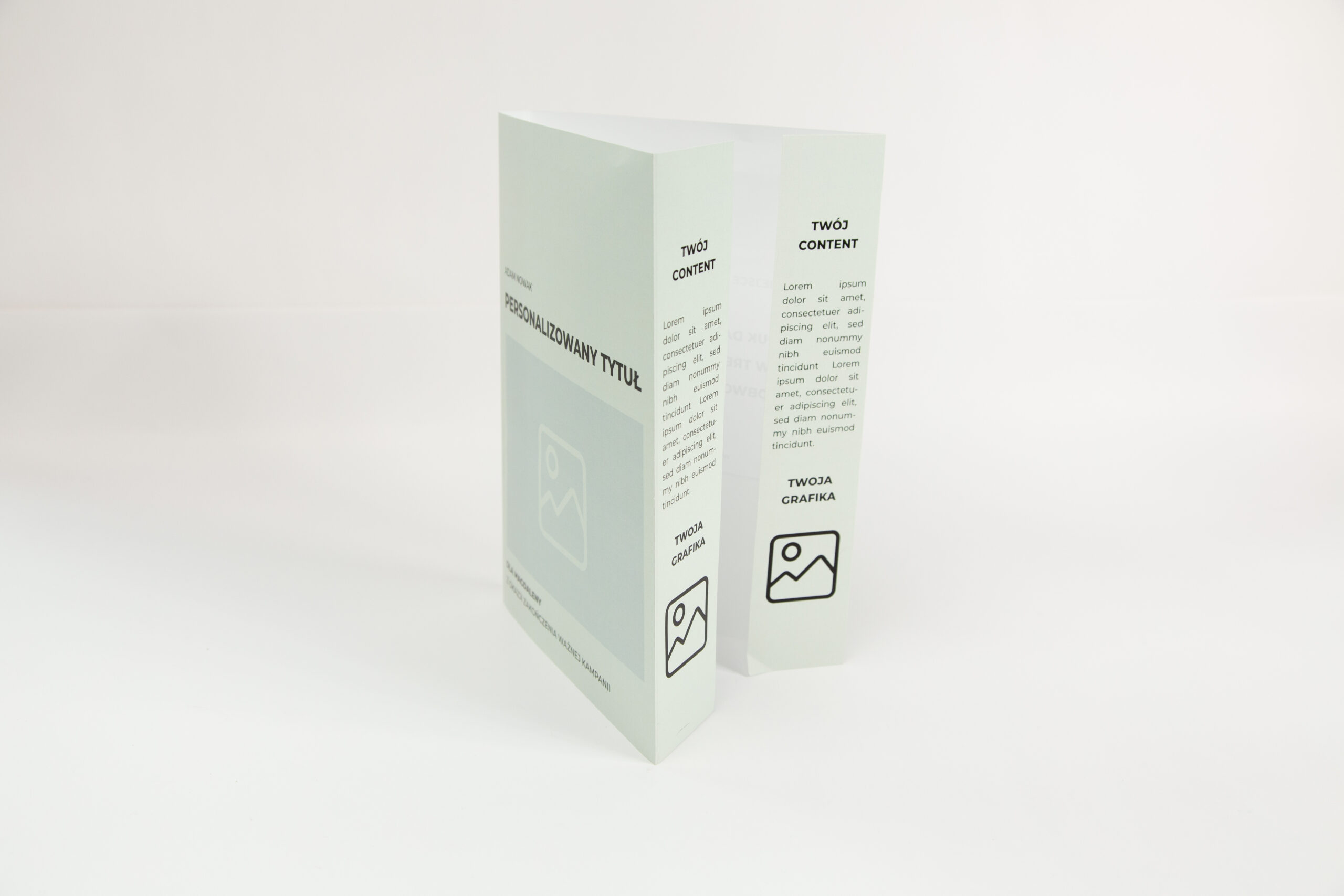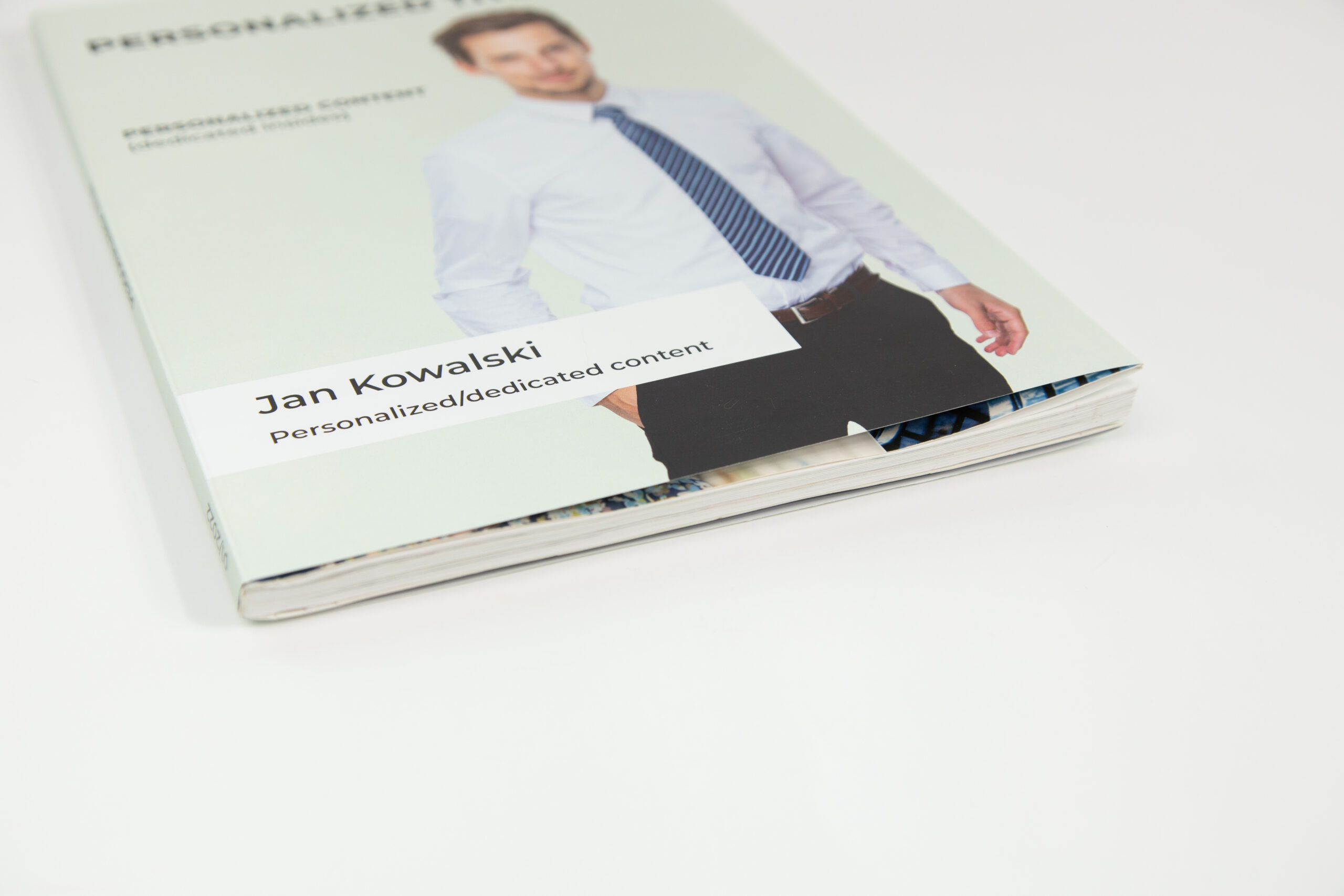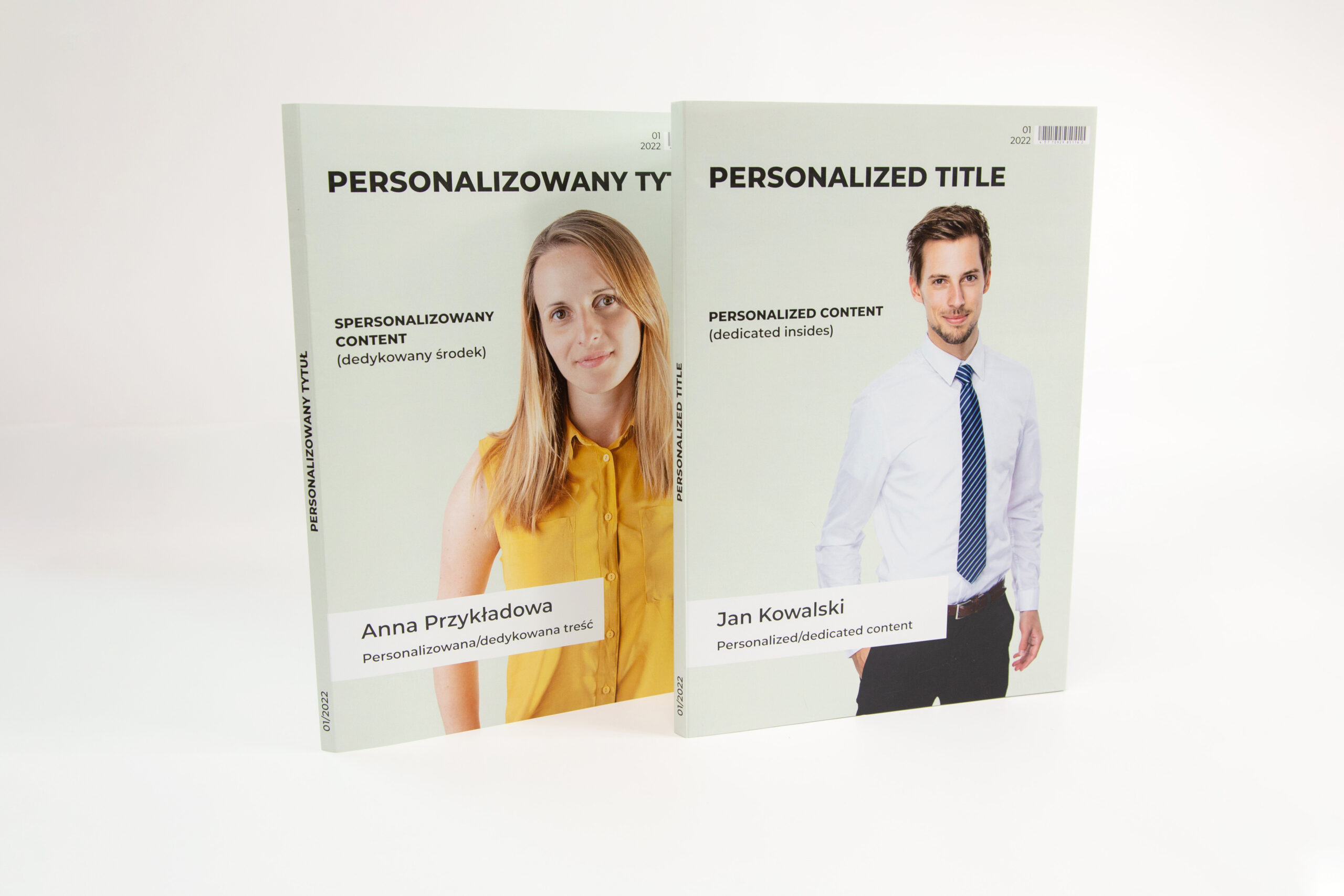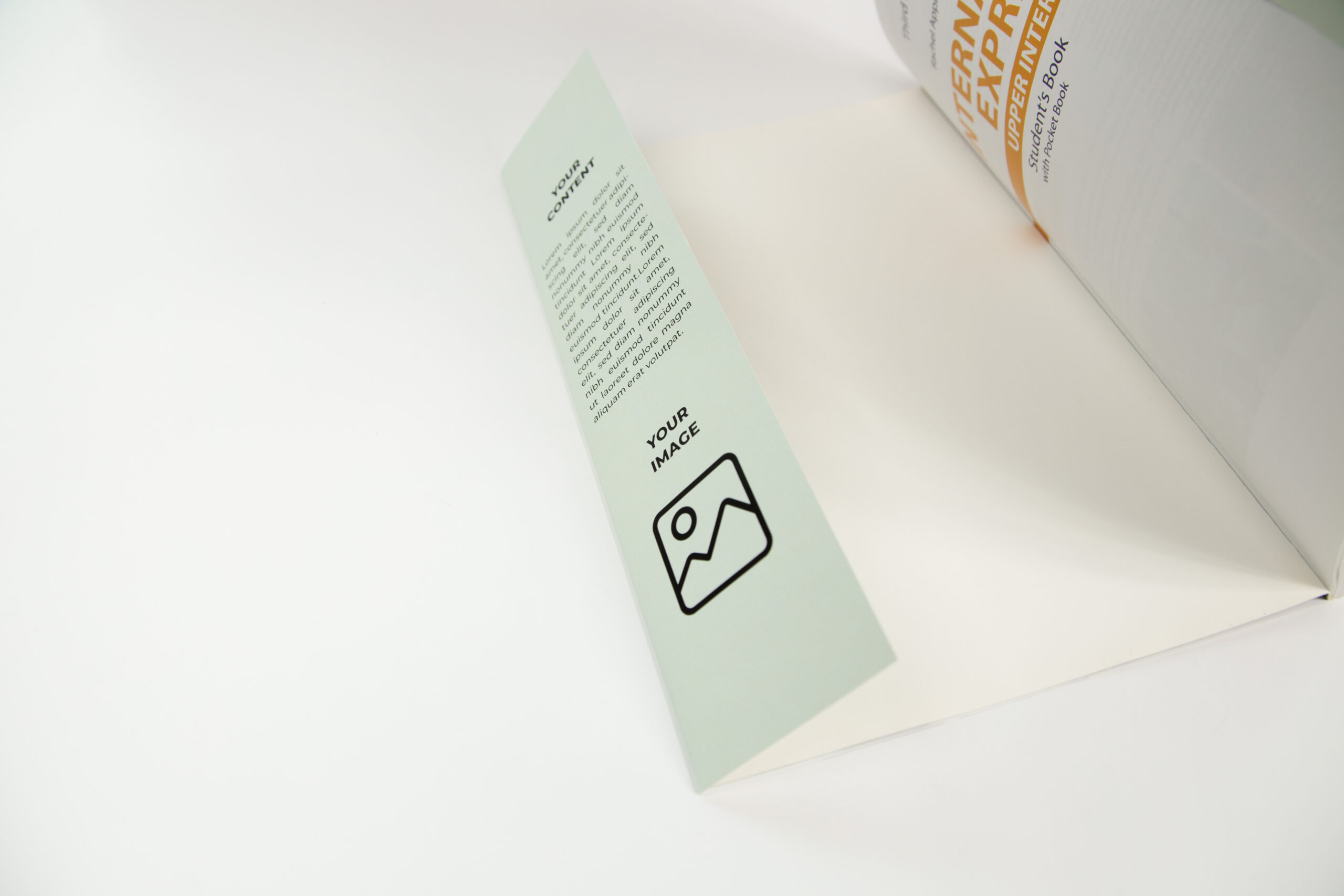 ---
3. FIGITAL = DIRECT MAIL + ONLINE
The power of personalized print ads can be enhanced using FIGITAL option. It is delivering customer experience by interacting at multiple touch points. Include AR APP or QR code with call-to-action and convert your audience into buyers.
QR code could be personalized and contain unique message and offer for each of the customer. It is a simple tool with lots of benefits:
Facilitates shopping and contacting – directs easily and quickly e.g. to your website, store, contact form or option to redeem your vouchers or online offers.
Supplements print with multimedia resources (e.g. films, publications in social media).
Builds a database of consumers (tracking URL links from the code gives you extensive information on potential buyers). It allows tracking of customer account number and purchase habits.
Helps to measure ROI of promotional campaigns.
Contactless technology – increases safety and helps to keep distance in the age of a global pandemic.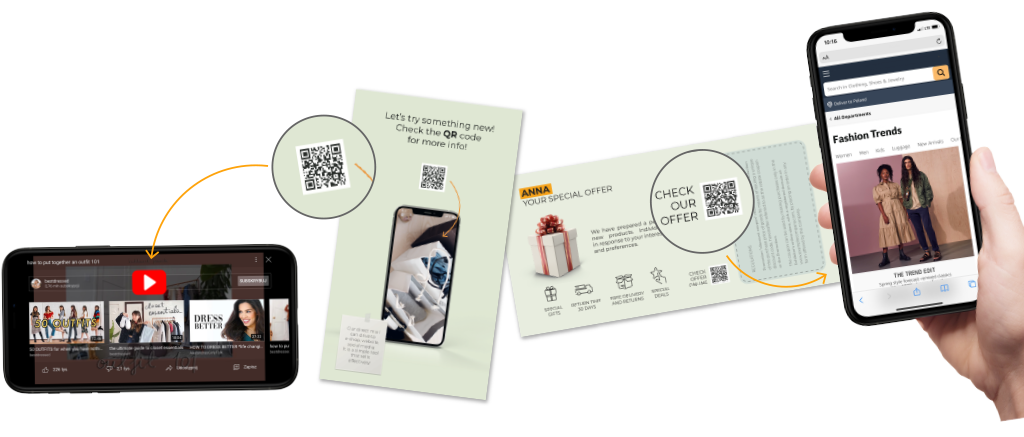 The Bottom Line on DIRECT MAIL communication
Deep personalization
Creative forms and shapes
Omnichannel – direct mail + online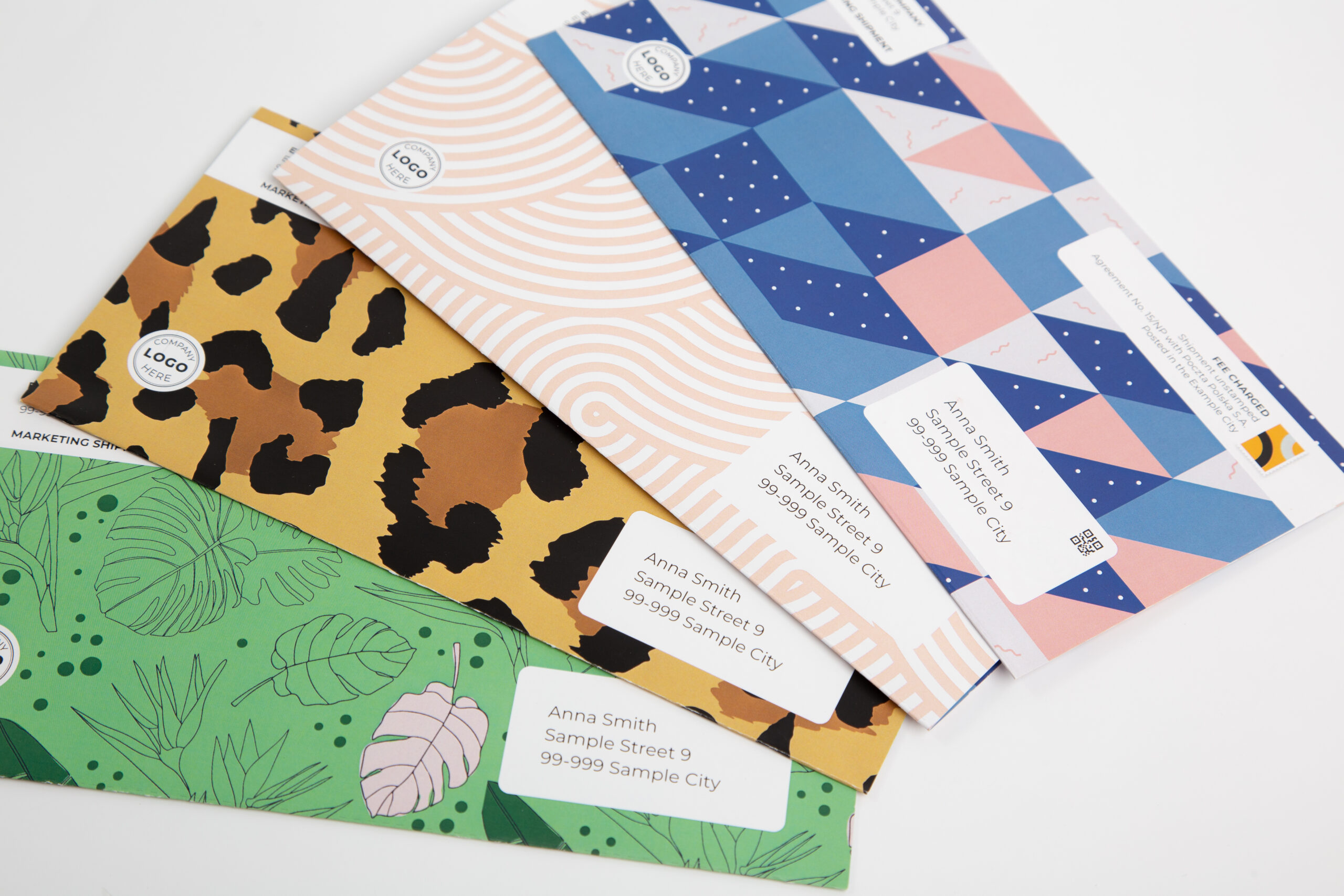 direct mailing(3)
Are you inspired by personalized and non-standard direct mail possibilities? Just do it!